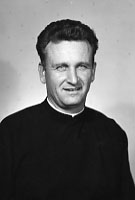 Brother Roger J. Mellon, MM
Born: January 13, 1924
Oath: June 29, 1955
Died: October 1, 2006
Brother Roger J. Mellon died at St. Teresa's Residence on October 1, 2006. He was 82 years old and a Maryknoll Brother for 51 years.
Albert Joseph Mellon, one of three children of Albert J. and Anna Gallagher Mellon, was born January 13, 1924, in Philadelphia, Pennsylvania. He attended St. William's grade school and graduated from Northeast Catholic High School in Philadelphia. He served in the U.S. Army for three years as a paratrooper in Southeast Asia during World War II. Before entering Maryknoll in September 1953, he worked as a carpenter, mason, painter and draftsman.
When he took his First Oath on June 29, 1955, he took the religious name of Brother Roger and was assigned to the Maryknoll Training Program at Maryknoll, New York, for young Brothers entering the Society, where he taught building construction and carpentry.
In 1961, Brother Roger was assigned to the Philippines Region. In 1962 he returned to the United States, serving first at Maryknoll Center and then from 1964 to 1967 at Hingham, Massachusetts. He again returned to the Center where he worked until September 1977 and then moved to Los Altos, California. After eleven years, in 1986, Brother Roger moved back to Maryknoll, New York, residing at the Society Center Building while working at St. Teresa's Residence. Although retired in 1992, he continued to volunteer as a driver for other residents.
Brother Roger moved to Mission St. Teresa's in July 2000 and became a member of the Retirement Community in 2001.
Wake services were held at 4:30 p.m. on October 5, 2006 at St. Teresa's and at 7:30 p.m. in Queen of Apostles Chapel at Maryknoll Center where Brother John Blazo officiated and Brother Kevin Dargan read the biography. Mass of Christian Burial was concelebrated in Queen of Apostles Chapel on October 6, 2006 at 11:00 a.m. Father Joseph La Mar was Principal Celebrant and homilist. Burial followed in Maryknoll Society Cemetery with Father John McAuley conducting the graveside service.