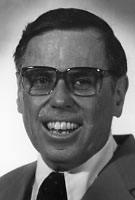 Brother Ronald N. Rinella, MM
Born: February 27, 1938
Oath: May 21, 1970
Died: December 5, 1999
Brother Ronald Rinella died on December 5, 1999 in Los Angeles, California. He was 61 years old and a Maryknoll brother for 35 years.
Ronald was born on February 27, 1938 in Long Beach, California, one of three children born to Vincent and Marie Murtagh Rinella. He attended St. Matthew's Grade School and graduated from St. Anthony's High School in Long Beach in June 1956. After graduation from high school, he enlisted in the U.S. Air Force and received extensive training in airborne radio, radar, and electronic navigational equipment operation and maintenance. He was honorably discharged as an Airman 1st Class from Sheppard A.F.B., Wichita, Texas on June 15, 1962. Ronald entered Maryknoll on September 8, 1962 and pronounced his First Oath of Obedience on June 6, 1964. He made his Permanent Oath on May 21, 1970.
Brother Ronald was first assigned to maintenance work at Maryknoll College, Glen Ellyn, Illinois. While there, he attended the DeVry Institute in Chicago for further studies in Electronics Technician Programs. After completing those studies, he was assigned to Maryknoll, New York to serve in the Center Social Communications Department. He was appointed Technical Director of the Audio-Visual Unit of the Department and served in that capacity for three years.
Brother Ronald's first foreign mission assignment was to Maryknoll's Mission Region in the Philippines on July 1, 1972. While there, he took a course in Clinical Pastoral Education at San Miguel Parish, Santo Tomas, Davao. During his five years in the Philippines, he worked with lay leaders in helping them to organize Basic Christian Communities. He also worked in a remote area of Mindanao called Lake Cebu in charge of maintenance at a Passionist Mission for tribal peoples. While on furlough in the United States in January 1977, he was assigned to the Development Department and served in the Philadelphia and Seattle Development Houses for three years. In January 1982, he received an assignment to Maryknoll's Central American Region and after language studies began work in Guatemala City, Guatemala. Although the thrust of Brother Ronald's work in Central America was working in refugee camps in Honduras, he also did general parish work in Nicaragua and Guatemala.
After twelve years working in Central America. Brother Ronald was assigned to the Development Department in August 1994 and began working both in Seattle, Washington and Washington, DC, doing Development and Formation Education work. While on the Spiritual Renewal Program in the fall of 1998, Brother Ronald took ill and had to return to the United States. He took up residence with his sister, Mary Robertson, in the Lakewood, California area where he remained until his death. A Maryknoller described Brother Ronald as "very intense and insightful and thorough, whether doing maintenance work, scriptural reflections on prayer occasions or reading Society documents.
There was a Memorial Mass held at the family's home parish of St. Cyprian's in Long Beach, California at 10:30 a.m. on December 8, 1999. Wake services were held on Thursday, December 9, 1999, at 7:30 p.m. at Maryknoll Residence Chapel, Los Altos, California where Father Joseph O'Neill officiated. Mass of Christian Burial was concelebrated on Friday, December 10, 1999, at 11:00 a.m. Father John Breen was Principal Celebrant and after the gospel, Brother John Blazo shared a reflection on Brother Ronald's life. Burial followed at Los Altos Cemetery with Brother Thomas Hickey conducting the graveside service.