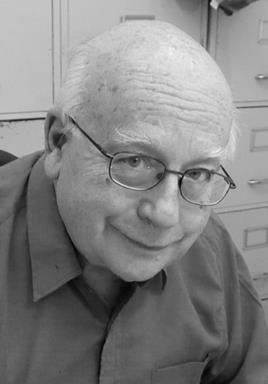 Brother Sebastian J. Schwartz
Born: August 2, 1928
Oath: June 29, 1953
Died: July 28, 2015
Brother Sebastian J. Schwartz died on July 28, 2015 at Mission St. Teresa's, Maryknoll, New York. He was 86 years old and a Maryknoll Brother for 62 years.
James Joseph Schwartz was born on August 2, 1928 in Menominee, Michigan, only child of Joseph and Julia Meyer Schwartz. He attended Iron River Central School in Iron River, Michigan and graduated from Lincoln High School, Manitowoc, Wisconsin in June 1947. After graduation, James worked at several jobs, the last one as a bookbinder prior to entering Maryknoll. James was endowed with a natural artistic talent. He worked as a cartoonist and produced several comic strips of his own creation. Besides artistic drawings, he created models in clay and wrote several stories, all without formal training.
James entered Maryknoll Brothers' Novitiate in Brookline, Massachusetts on November 12, 1951. He chose the Religious name of Sebastian and pronounced his First Oath of Obedience on June 29, 1953 and his Permanent Oath on June 15, 1956. After Novitiate, Brother Sebastian was assigned to Maryknoll College, Glen Ellyn, Illinois on May 26, 1953. He continued his artistic hobby of modeling and cartoon drawing. On May 26, 1959 he was transferred to Maryknoll Center in New York and assigned to the Social Communications Department where he was attached to the Field Afar Art Department in the Walsh Building and encouraged to take formal training courses in commercial art and illustration techniques. He won a three-year home-study scholarship in commercial art from the Famous Artist School in Westport, Connecticut, and earned a Certificate in Illustration and Commercial Art. Brother Sebastian served for 14 years in the Art Department at Maryknoll, New York.
On November 6, 1973, Brother Sebastian was given his first foreign mission assignment to the Maryknoll Mission in Caracas, Venezuela. He attended the Mission Institute at Maryknoll, New York during the month of January 1974, and then went to the Maryknoll Language School in Cochabamba, Bolivia, for Spanish language and cultural studies.
In February 1977, he was assigned to the newly formed Maryknoll Brothers' Mission Unit in Apia, Western Samoa. Since the people used a great deal of English, Brother Sebastian was able to settle into mission work among them. With his artistic talent and training, he engaged in developing catechetical visual aids and comic strips with religious and non-religious themes in both Samoan and English. One of the more creative aspects of his work was a popular weekly comic strip called TOA-Warrior of the Sunrise which appeared in several Pacific newspapers, including the Hawaii Catholic Herald. The stories, characters and incidents mentioned in the comic strip were entirely fictional, but always portrayed a special lesson or truth based on Christian principles. For years, Brother Sebastian did the artwork for the Archdiocesan Catholic newspaper. He developed a 426-page illustrated biography of St. Joan of Arc for the Archdiocesan newspaper with advertising posters. In addition, he conducted an art school for adults at night in downtown Apia. On July 5, 1989 Brother Sebastian was elected as Unit Coordinator for Western Samoa.
After 14 years in Western Samoa, on December 1, 1991, Brother Sebastian was assigned to the Hong Kong Region. He resided at the Stanley Center House and continued in his ministry of drawing cartoons. Brother Sebastian was a teacher at the Maryknoll Technical School for many years. The students who completed his drafting/illustrating course invariably passed the Hong Kong exam for certification. In addition, working with Fr. Adam Gudalefsky, he authored 28 illustrated booklets on mental retardation, AIDS, bullying, "being different", drug addiction, etc. These booklets have been translated into many languages. Brother Sebastian was a welcoming presence at the Stanley House and will be remembered with great affection by many of the 400 teachers of the Maryknoll China Service Program, who were trained and visited Stanley.
He was featured in the March 2012 edition of the Maryknoll Fathers and Brothers "Study Guide for Grades K-5". Brother Sebastian explained that he entertained readers while teaching them to live as Jesus taught. In February 2013, Brother Sebastian came to the United States and resided at Maryknoll, New York, where he remained for six months before moving to the Maryknoll Residence in Los Altos, California. In May 2015, Brother Sebastian returned to New York and was a resident at Mission St. Teresa.
A Rosary and wake service was held at 4:00 p.m. on August 3, 2015 at St. Teresa's. The body was received at the Maryknoll Society Center at 9:30 a.m., August 4, 2015 with prayers in the Lady Chapel until 10:45 a.m. The biography was read by Br. Kevin Dargan. Mass of Christian Burial was concelebrated in Queen of Apostles Chapel on August 4, 2015 at 11:00 a.m. Father Emile Dumas was Principal Celebrant and Fr. Jack Sullivan was homilist. Burial followed in Maryknoll Society Cemetery.