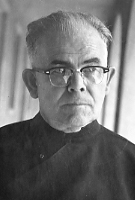 Brother Stanislaus Kammer, MM
Born: June 1, 1887
Oath: December 25, 1934
Died: February 19, 1961
Aloysius Kammer was born in Akron, Ohio on June 1, 1887, in St. Bernard's Parish where he attended school. His parents died while he was still young and he was put in St. Mary's Orphanage in Galveston, Texas.
He entered Maryknoll from Los Angeles in December of 1929 and took the Perpetual Oath on December 25, 1934. He was assigned to Bedford that year and then in 1936 transferred to Los Altos for construction and maintenance work.
He remained on the West Coast, working at the Los Angeles Japanese Mission and in Los Altos until 1942 when he was moved to the Center. In 1944 he was back in Los Angeles to assist in the promotion house and then, in 1957, went to the Los Angeles Japanese Mission again. Since 1944 he had suffered from a continued illness, causing his activities to be curtailed; but during these years he continued to perform his duties to the best of his ability and remained faithful to his religious duties.
In the months previous to his death, Brother's health had failed so rapidly that he had to have constant care. Brother Stanislaus passed away on February 19, 1961 at the hospital of the Brothers of St. John of God in Los Angeles where he had been since November, 1960.
The funeral Mass was celebrated in Los Angeles on February 22 and interment was in the cemetery at Mountain View on the following day.