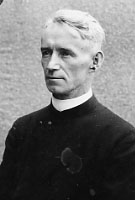 Brother Stephen Daley, MM
Born: March 4, 1884
Oath: September 12, 1930
Died: January 9, 1963
Stephen Leo Daley was born in Mt. Laffee, Pottsville, Pennsylvania. on March 4, 1884. After a few years in school he went to work in the coal mines and worked as a miner for twenty-seven years.
He entered Maryknoll in September of 1921. From 1924 to 1933 he was assigned to the Venard, working on the farm. He was then assigned to the Center and remained there for four years, then returned to the Venard in 1937. He was assigned to Mountain View to take care of the grounds in 1940, and labored faithfully to keep the lawns, shrubbery and paths around the seminary in excellent condition.
Besides being a faithful workman, he was also a man of prayer, and in his later years when he could no longer do much in the way of physical labor, he spent most of his free time in chapel. This gave him a very admirable air of gentleness, serenity and complete abandonment to God's will as learned through his superiors. Every superior under whom he worked has testified to his continuing faithfulness to his work and obligations and to his holiness of life. One such report reads: "A report on Brother Stephen is rather superfluous since he has always been a model of a good spiritual brother and all the brothers in the house respect and admire his devotion to spiritual duties, his work and to the society."
The funeral was held at Mountain View on January 11 in conjunction with that of Father George Powers who died the day before Brother Stephen. Burial was in the cemetery at Mountain View.