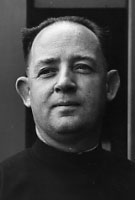 Brother Theophane Walsh, MM
Born: February 27, 1904
Oath: September 14, 1930
Died: February 12, 1981
Brother Theophane (Edward George) Walsh died at Phelps Memorial Hospital on Thursday, February 12, 1981. Had Brother survived he would have celebrated his seventy-seventh birthday in two weeks. Theophane was admitted to the hospital last week with health concerns.
Born Edward George Walsh in Roxbury, Massachusetts on February 27, 1904, he was one of four sons and two daughters of Joseph P. Walsh and Annie Magner. Theophane's thirst for education was evident in his pursuit of special night classes when a youth to complete his schooling. While working as a salesman and clerk, he continued his education in Boston Continuation School where he was an outstanding student.
Theophane's entry to Maryknoll in August, 1921, was inspired both by his brother Willie, who spent several years at the Venard before leaving in 1923, and by Fr. Tom Plunkett who was also a Maryknoll vocation from the Mission Church in Roxbury. The religious environment of Theophane's home was evident not only in the vocation of the two brothers, but in that of a sister who was for many years a member of the Sisters of Charity.
From his earliest time in Maryknoll, through the many years of limited but dedicated service, Brother was always considered a steady, organized worker, devoted to Maryknoll and the missions. His work was of the highest caliber because of the interest he has always shown in his assignments. This dedication was seen especially in extended assignments to Japanese-American work in Chicago and Los Angeles. He was at various times assigned also to San Francisco and the Venard, as well as to Japan for a period of a little more than two years.
While in Chicago he was an integral part of the Catholic Youth Organization's Nisei Center under Bishop Sheil. His efforts in English instruction and in scouting were applauded in the Chicago newspapers on several occasions. When in our Japanese mission in Los Angeles, a total period of thirty-five years, Theophane was renowned for his work with the Boy Scouts. With them, he extended his influence from a minor troop leader involved with the Ad Altare Dei movement of the Scouts, to the International Boy Scout Commissioner for interracial groups. In 1956 he was awarded the medal of Saint George for his Scout work over thirty years. He managed at the same time to be solely responsible for the outstanding bazaar of the Japanese Mission and chiefly responsible for the transportation of students to and from the Japanese school. He was a treasury of information who inspired great loyalty from those he served.
With few Maryknollers would a life of suffering be so much a part of their apostolate as was the case with Theophane. From his mid-twenties, he began to have continued health concerns and until his death fifty years later, pain seldom left him. These health problems followed him through his life and caused many difficulties for him. From Theophane's point of view, as one Superior expressed it, he was always loyal and grateful to the Society for all it had done for him through his many medical treatments. As expressed by another Superior, from the  Society's point of view, the offering of your sufferings for the good of the missions and of Maryknoll, have served so well those who are privileged to labor in mission lands. From the Lord's point of view, his suffering can never be compared to the glory, as yet unrevealed, which is waiting for us. (Romans, 8 : 18)
On February 15th a Wake Service was held at Maryknoll led by Fr. Thomas Wilcox, and Mass of the Resurrection was on the following day, with Principal Celebrant Fr. Edward Manning and Fr. Thomas McDermott as Homilist. Burial followed in Maryknoll Cemetery.