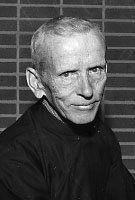 Brother Thomas R. Dawson, MM
Born: September 27, 1907
Oath: September 12, 1932
Died: May 27, 1996
Brother Rene Dawson died at St. Teresa's Residence, Maryknoll, New York, at 2:30 P.M. on Monday, May 27, 1996. He was 88 years of age and a Maryknoll Brother for 64 years.
Thomas Byrne Dawson was born on September 27,1907, in Dublin, Ireland, son of Thomas and Elizabeth Byrne Dawson. He had one brother, Philip and one sister, Mary. His early schooling took place in a Longford County school and the Brothers School in Carrickmacross, Co. Monaghan, Ireland. He arrived in New York City on October 15, 1926 aboard the SS President Harding. He moved to Philadelphia and worked there until November 23, 1930 when he joined the Maryknoll Brothers at Maryknoll, New York. After receiving his letter of acceptance to the Society he wrote to Maryknoll. In his letter dated November 16, 1930 he stated – "I am happy to know, that I have been accepted for the Maryknoll Brothers. In gratitude to Almighty God and his Blessed Mother I will do my best during the coming weeks to bring others to know Maryknoll through the Field Afar and further the cause so dear to the Sacred Heart."
Thomas Dawson pronounced his First Oath of Obedience at Maryknoll, New York, on September 12, 1932 and chose the religious name of Brother Rene. He pronounced his Permanent Oath on September 29, 1938.
Brother Rene had a variety of assignments. He worked at the Maryknoll Seminary, Maryknoll, New York; Maryknoll Apostolic College, (Venard) at Clarks Summit, Pennsylvania; Maryknoll Junior Seminary, Chesterfield, Missouri; Maryknoll College, Glen Ellyn, Illinois; Maryknoll Residence, Los Altos, California; and St. Teresa's Residence, Maryknoll, New York. He spent more time in the chapels than anyone else; and the Lord knows how valuable Brother Rene was in maintenance work on the grounds, garden and farms of the various places. Brother Rene was responsible for erecting the original crucifix in the Maryknoll Center Cemetery and again in erecting its replacement in 1975.
On the occasion of Brother Rene's Silver Jubilee of Oath to the Maryknoll Society he wrote to Bishop John Comber, Superior General, on January 13, 1963. In his letter he writes – "Many thanks for your kind congratulatory letter for my Silver Jubilee of Perpetual Oath as a member of Maryknoll. Its words of praise sound as if rightfully belonging to someone else – to Brother Xavier, perhaps, who bore with me for seven years as a helper in caring for the dairy herd, or to others almost equally patient, who are still living. St. Therese of the Little Flower, once when similarly praised by her superior, reminded herself – Whom God has sent speaks the word of God. Making this view my own, my gratitude should know no bounds. I rejoice with you in the remarkable spirit of sacrifice and devotion to duty, of our old and young missioners may God find my active contemplation (pick and shovel work) pleasing and bring, only as He can, triumph out of failure."
Brother Rene was enrolled in the Special Society Unit January 25, 1976 with residence at Los Altos. After the earthquake at Los Altos on October 17, 1989, he moved to St. Teresa's Residence on January 25, 1991 where he remained until be time of his death.
On June 1, 1995 the Society presented Brother Rene, along with nine other Society members, the Mission Cross in Recognition of his many years of faithful service to the Society and mission. Brother Rene wrote to the General Council at the time he received the invitation to attend the ceremony – "Sorry for my delayed response to Father General's request that I attend the ceremony on June 1st. Since my two spells in the Hospital . . . one day at a time. I may be a doubtful starter that day because of my health. With my prayers for those pillars of the Church and for all still able to make it, especially remembering those gone before: Xavier, Aloysius and Vincent to whom I owe so much."
Brother Rene was a deeply prayerful man and attended daily Eucharist as central to his life. He had a faithful devotion to the Blessed Mother whom he prayed to daily for Maryknoll and all missioners. He was a man of integrity and lived a life of Gospel simplicity. Brother Rene was loved by many and was truly an example of fidelity and commitment to all Maryknollers.
Wake Services were held on May 29, 1996 at St. Teresa's Residence Chapel at 7:00 P.M. and at the Queen of Apostles Chapel at the Maryknoll Center, New York, at 7:30 P.M. Mass of Christian Burial was concelebrated on May 30, 1996 in Queen of Apostles Chapel at 11:30 A.M. The Principal Celebrant was Father Edward Hayes, M.M. and the Homilist was Father George Egan, M.M. Graveside services were conducted by Brother Wayne Fitzpatrick, M.M. and interment followed at the Maryknoll Cemetery.