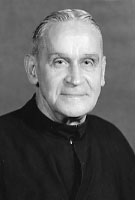 Brother Vincent de Paul Parkinson, MM
Born: June 9, 1889
Oath: March 19, 1931
Died: October 3, 1965
Vincent de Paul Parkinson was born in Preston, England on June 9, 1889. At the age of thirteen he came to the United States with his family. They settled in New Bedford, Massachusetts where he attended St. Mary's Parochial School for one year. He then went to work in the New Bedford mill of the Westerly Textile Company. During the first World War he was drafted as a private in the 24th Regiment of Engineers and worked at Camp Devens in Massachusetts.
On January 3, 1920 he entered Maryknoll and began his forty-five years of devoted service. He was assigned to the Venard in 1925 and returned to the Center in 1928 where he remained and worked in various capacities until his transfer to Lakewood in 1947. With the discontinuance of the seminary at Lakewood he was again back at the Center where he carried the inter-office mail. It was a common sight to see Brother Vincent walking from one building to the other in the coldest weather with only a suit jacket on. He seemed to be impervious to the cold. But this task was interrupted because of failing health.
In 1943 he fell ill. When it became necessary for him to be hospitalized, he insisted that it should be in a Catholic hospital.
After several months of lingering illness he went to his reward on the Feast of the Little Flower, October 3, 1965.
A Solemn High Mass of Requiem was sung at Maryknoll on October 6th and burial took place in God's Acre here.