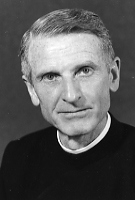 Brother Walter Beneke, MM
Born: May 22, 1897
Oath: September 29, 1941
Died: December 4, 1984
When Brother Walter was assigned to the Special Society Unit in July, 1979, Fr. James Noonan wrote: "…I would like to thank you in the name of Maryknoll for the many years of service you have given to God's Kingdom through your membership in the Society. Your life has truly been an example to all Maryknollers who have had the pleasure of living and working with you, as well as the many People of God who were influenced by your ministry over the years. We younger members of the Society only hope and pray that in the years to come we will be found as faithful to our vocation as you have been."
After forty-five years of an edifying religious life, Brother Walter Beneke died at St. Teresa's early in the morning of the 4th of December, 1984.
Walter was born in Rochester, Minnesota in 1897. He was the son of Edward and Frances Beneke. He attended public grade and high schools and then studied at the University of Minnesota where he obtained a degree in Civil Engineering. Before entering Maryknoll in 1939 he worked as a bookkeeper and with construction and maintenance of buildings. At this time his pastor, a Father Sullivan, penned these words about him: "œI wish to recommend him highly and I have full confidence that he would become a worthy member of your Society and, because of his exceptional talents, would be able to do much good as a Brother."
Brother Walter was first assigned to the Center in 1939 and then to Bedford in 1940. He spent the next six years between Bedford and the Center. In 1948 he was assigned to Rome and remained there until his assignment to Cincinnati. In 1958 he moved to Glen Ellyn until coming to Maryknoll again in 1973. In 1979 he was assigned to the Special Society Unit with residence at Los Altos. Recently he arrived at St. Teresa's because of his deteriorating health.
Even though Brother spent most of his religious life in the United States, he had become a model in carrying out whatever administrative duties were assigned to him. Because of his deep sense of religious life, his punctuality and regularity in performing his duties, he was well liked by his superiors and those with whom he worked. He was well respected by his confreres. His devotion to the Blessed Sacrament was a source of motivation to others.
The Wake was held on the evening of December 5th, with Fr. John Corcoran officiating and Bro. James Murray reading the Biography. Mass of Christian Burial was concelebrated the next day in the main chapel, Fr. Arthur Brown being the principal concelebrant and Homily by Fr. Robert Sheridan. Burial was in the Center cemetery with Fr. Kenneth Thesing giving the Final Blessing.
Brother Walter was an excellent Brother and a person who will always be admired for his deep religious spirit. May we all keep him in our prayers as a faithful member of the Maryknoll Family.