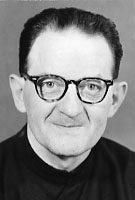 Brother William Neary, MM
Born: November 11, 1902
Oath: September 19, 1930
Died: November 5, 1993
Brother William Neary died at 9:30 p.m., Friday, November 5, 1993 at St. Teresa's Residence, Maryknoll, New York. He was 6 days short of 91 years of age and a Maryknoll Brother for 70 years.
William Thomas Neary was born on November 11, 1902, in North Adams, Massachusetts, son of William Thomas Neary and Rose Elizabeth Borden. He had one brother and four sisters. He attended St. Joseph's Parochial School for nine years. He graduated from Berkshire Business College in Pittsfield, Massachusetts, and worked in the General Electric Company accounting office. He then took up carpentry and served his apprenticeship for two years. After he joined Maryknoll in 1923, he took a course in architecture through the International Correspondence Schools, Scranton, Pennsylvania, which the missions.
As a teenager, he had a strong desire to be a religious brother. His family and pastor, however, urged him towards the priesthood. In 1922, at a meeting of St. Vincent De Paul Societies in Pittsfield, he heard a Maryknoll priest give a talk on Maryknoll and the missions in the Orient. As a result he enrolled in the Maryknoll Society on September 30, 1923. Many years later he wrote about his vocation as follows: "After thirty years as a Maryknoll Brother I feel the proper choice was made and am perfectly happy. In all this time, I have never had one moment of regret that I didn't become a priest. Looking back over the years, everything seems to have turned out for the best. I'm at Maryknoll, the place I first thought of coming to, away back in those days when I was a youngster reading The Field Afar magazine."
Brother William entered the Maryknoll Brothers on September 29, 1923. He annually renewed the Brothers' Promise of Poverty, Chastity and Obedience and pronounced his Permanent Oath on September 19, 1930. In October of 1926 he was assigned to the Maryknoll mission in Korea. During his ten years of service there he became an accomplished carpenter, mechanic, stone mason, draftsman and to some extent an architect. He was a steady worker, very good in the language regarding his duties and work, and a great asset to the Maryknoll priests in their building projects. His Superior wrote of him that, "he has a fine disposition, heart and soul in his work with no other thought than advancing the cause of the missions in his particular field."
Brother William enjoyed a decennial home leave in the United States in 1937 and then returned to Korea. In 1939, he was loaned to the Maryknoll Superior in Japan to assist the Maryknollers there in their building projects. He adapted well to the new customs and language. In August of 1941, he went to the Philippines for a rest and vacation. On his way back to Heijo through Hong Kong he was interned there by the Japanese army on December 8 with the other Americans, and later returned to the United States on the Gripsholm repatriation ship. During the war years he found plenty of building work to be done around the various Maryknoll houses in the United States. He returned to Japan in October of 1946. His Superior wrote that "he was well liked by all, appreciated for his sound judgment and common sense and his courage to state his mind."
The results of his specialized work are apparent in Korea and Japan to this day. The Superior General in 1949 asked Brother William for a list of church buildings he constructed. The list included over 100 buildings: namely 18 rectories, 17 chapels, 15 churches, II houses, 5 meeting halls, 3 combination churches and rectories, 5 small schools, 2 sanitoriums, 2 central houses, 1 large school and many smaller homes used by the catechists and employees. Upon receiving this list the Superior General wrote: "I have the list, and it is astounding when one looks over it and sees how much this man has done. He has been of great value to both the Korean and Japanese Churches and must have saved an extremely large sum of money for the missions in his days."
He returned to the United States in November of 1954 for health reasons, and for the next few years was limited to light carpentry and maintenance work. In 1967, he was assigned to the Maryknoll Seminary at Chesterfield, Missouri. After the Seminary was closed in 1969, he transferred to Maryknoll Residence at Los Altos, California. There he joyfully celebrated his 50th anniversary as a Maryknoll Brother. On January 1, 1976, he enrolled in the Special Society Unit and in 1977 transferred to St. Teresa's Residence at Maryknoll, New York.
As the author of the book entitled The Meaning of Maryknoll wrote: "The success of any society lies not in statistics but in the men it creates. The character, actions and accomplishments of these men are the true index to success or failure." Certainly Brother William's accomplishments mark him as a very successful, active as well as a long-suffering missioner.
In a contest for the most cooperative resident at St. Teresa's Residence, Brother William would surely have been a leading contender. He spoke with difficulty but unfailingly gave a cheerful, positive reply to everyone who asked: 'How are you, Brother Bill?' For years his favorite spot seemed to be a lounge chair near the nurses' desk, right outside the old elevator on the 2nd floor. His Superior wrote of him that "his cheerfulness never failed, nor did his appetite. He was always visibly grateful for the slightest favor done for him while never seeming to ask for anything. The Mystical Body of Christ seemed palpably present at St. Teresa's while Brother Bill was among us."
Wake services were held at St. Teresa's Residence and Queen of Apostles Chapel on Monday evening. Concelebrated Mass of Christian Burial was offered in the Queen of Apostles Chapel Tuesday morning at 11:30 A.M. Burial took place in the Maryknoll Center Cemetery.