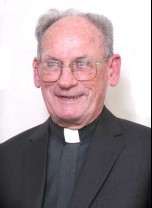 Father Adam Gudalefsky, MM
Born: August 12, 1928
Ordained: June 13, 1959
Died: April 24, 2020
Father Adam B. Gudalefsky died on April 24, 2020 at Westchester Medical Center, Valhalla, New York.  He was 91 years old and a Maryknoll priest for 60 years.
Adam Bernard Gudalefsky was born on August 12, 1928 in Sheppton, Pennsylvania.  He was the son of Adam and Catherine Kroftus Gudalefsky and the second to the last of ten children.  His primary education was in public schools and in Most Precious Blood parochial school.  After graduation from Hazleton Senior High School in 1946, he immediately enlisted in the U.S. Army (Air Corps), and served most of his three-year term with the Occupation Force in Japan.  During the years in Japan, Adam initiated many "mission" activities by helping at Church-run orphanages, organizing programs to feed the poor and enabling Church publications to be produced and disseminated.  He was honorably discharged with the rank of Sergeant in April 1949 and in June of that same year entered Maryknoll at Venard, Clarks Summit, Pennsylvania. After studies at Brookline, Massachusetts; Lakewood, New Jersey; Glen Ellyn, Illinois; the Novitiate at Bedford, Massachusetts and at Maryknoll, New York, Father Gudalefsky was ordained on June 13, 1959.
Father Gudalefsky's first assignment was to Maryknoll Mission work in Japan.  After completion of language studies in Tokyo and Kyoto, he had various experiences in pastoral, scholastic and social communications apostolates in the Kyoto area.  Most of his mission endeavors, however, were carried out in the northernmost island of Hokkaido in the Diocese of Sapporo in Japan.  During his ten years in that mission region, his ministries included primary education which involved conducting nurseries, working in an institution for persons with intellectual handicaps, and responsibilities for parishes.
In September 1977, Father Gudalefsky was assigned to open a new Maryknoll mission in Nepal.  He spent almost six years there, which included language studies, initiating the first efforts in the education and care of persons with intellectual handicaps and general mission works. He established the HANDS (Human and National Development Service) program which encompassed apostolic projects for persons with intellectual handicaps, the uplifting of the status of women, and literacy programs.
Father Gudalefsky was assigned to Hong Kong in February 1983, where he worked for one year at UCAN News Service.  He then cooperated in establishing INTERAID, Inc. (International Assistance In Development), a non-government organization conducting educational and social projects worldwide.  He was involved in many projects and programs in Hong Kong, Macau, China, Burma, India, Pakistan, Thailand and Vietnam, including social awareness and literacy programs, educational programs for people who care for persons with mental handicaps, foster parent sponsorship, food programs, collaborations with NGO groups and special education work.  He also worked with global Special Educational social awareness publications, and gave pastoral attention to the Catholic Centre in Hong Kong and chaplaincy with Women Religious.
Father Gudalefsky began living and working at the Maryknoll Secondary School in Kowloon, Hong Kong in 2016.  He celebrated his 60th Jubilee as a Maryknoll priest among family and friends at Maryknoll, New York in June 2019.  At that time it was said of him, "Many people spend time talking about options for the poor, and others, like Father Gudalefsky, spend time living out the option."  Father Gudalefsky returned to Maryknoll, New York in December 2019 and took up residence at the Society Center.  He was assigned to the Senior Missioner Community in February 2020.
A Mass of Christian Burial was celebrated in Queen of Apostles Chapel on April 28, 2020 at 11:15 a.m.  Father Kevin Hanlon was Principal Celebrant and homilist, and Father Emile Dumas read the Oath and biography.  Burial followed in the Maryknoll Society Cemetery.