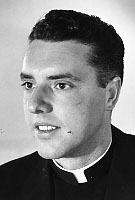 Father Alan A. Smidlein, MM
Born: August 18, 1925
Ordained: June 11, 1955
Died: October 2, 1988
Alan Anthony Smidlein died on Sunday, October 2, 1988. He was 63 years old and a missioner for 32 of those years.
Alan was born in Yonkers, N.Y. on August 18, 1925, son of Anthony Smidlein and Claire Crough. Early schooling was in public schools of Yonkers. He was graduated from Cardinal Hayes High in South Bronx in 1943. Alan joined the Navy and served, after training, in the Navy Hospital Corps. As World War II was ending he began thinking of the priesthood and foreign missions because he was attracted to helping people receive the Christian faith. He was accepted in Maryknoll in 1946 and attended special courses for veterans at Mountain View and Lakewood. He was ordained on June 11, 1955. He was assigned to Maswa-Shinyanga and served twenty years in Tanzania and five in Mombasa, Kenya.
During his years at Buhangija he mastered both spoken and written Sukuma fairly well. During his first furlough in 1961 he took on a second language, Kiswahili, and primarily used this for his remaining years in Africa. After 2 years in Buhangija, he was transferred to Sayusayu Parish in Maswa and then in 1959 to Shingyanga Parish, first as Assistant and soon after as Pastor. He served in that developing area for 13 years. Father Al liked the people; he was accessible and flexible in his relations with all. The people in turn liked his affable and approachable ways. He liked teaching and was excellent in school work with youngsters while also developing a strong liking for helping adults in social problems. While in Shinyanga Town Parish he began to develop his knowledge of Kiswahili. Many Muslims were moving into the parish and he made every effort to reach out to them. He became President of the International Lions Club and found his membership an excellent way of spreading the Christian message.
On furlough in 1961 he took an advanced course in Kiswahili at Duquesne University and then took an updating course in Theological Education in Rome. To improve his knowledge and effective ness among the Muslims, he studied for a year in Islamic and Arabic in Hartford, Connecticut. He then returned to his mission in Africa.
In September, 1976 he was recalled to the U.S. for service in the Development Dept. He served in the Chicago area and in July, 1978 was appointed Director of the Nutley, N.J. house. In 1980 he attended the theological renewal course at North American College in Rome, during which time he enjoyed a trip thru the Holy Land.In 1981 he was assigned back to Africa to work among the people in Mombasa. There he was able to pursue his deep interest in Islamic- Christian relations among the mixed population of that mission.
Finally, in 1986 he returned home to Yonkers to attend the needs of his elderly mother. About that time he developed health concerns that necessitated care at St. Teresa's. He is remembered there as exceptionally patient, cheerfully resigned to God's will.
Wake service was held on Oct. 4 at Lincoln Park Funeral Home, Yonkers and also at St. Paul's Church, followed by the Mass of Christian Burial, the Pastor John Gallagher celebrating. Wake services were also held at St. Teresa's and at the Center Chapel with Fr. Edward Davis conducting and Bro. Kevin Dargan reading the biography. Mass was offered on the next day with Fr. James Lenihan as principal celebrant and Fr. Edward Killackey, homilist. Father Morgan Vittengl conducted graveside ceremonies at the Center.