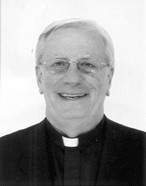 Father Alan T. Doyle, MM
Born: March 20, 1937
Ordained: June 13, 1964
Died: May 9, 2021
Father Alan T. Doyle died on May 9, 2021 at Taiwan University National Hospital in Taipei, Taiwan. He was 84 years old and a Maryknoll priest for 56 years.
Alan Thomas Doyle was born in Great Neck, New York, on March 20, 1937, son of John and Helen Lawlor Doyle. He studied in the Great Neck Public School System, graduating from Great Neck High School in 1955. After studying for two years in Cathedral College of the Immaculate Conception, Brooklyn, New York, he transferred to Maryknoll College, Glen Ellyn Illinois, graduating in 1959 with a Bachelor of Arts degree in Philosophy. After his novitiate year at Bedford, Massachusetts he spent four years studying Theology at Maryknoll, New York, earning a Bachelor of Divinity degree in 1963 and a Masters of Religious Education degree in 1964. He was ordained a priest at Maryknoll Seminary, New York on June 13, 1964.
Upon ordination Father Doyle was assigned to the Maryknoll Mission in Taiwan. After studying the Taiwanese language, he spent five years in parish work and three years as Regional Research and Planning Coordinator for Maryknoll's Taiwan Region, a job that called for adapting traditional mission methods to the thinking of Vatican II.
Father Doyle then spent a year studying the Mandarin Chinese language. In 1974 he was transferred to Taipei City to serve as the Executive Secretary of the Association of Major Religious Superiors of Men. The following year he was assigned to Friendship House in downtown Taipei. At that time he wrote, "The aim of this work is to help migrant Taiwanese and Hakka Catholics, who have moved here from the countryside, become active in the Taipei City church. For the families among them, we try to integrate them into their new parish. For the 1000 singles registered with us, mostly people in their twenties and thirties, we serve as a non-territorial parish. This work is both challenging and rewarding." The Center offered training in Christian leadership, social concerns, pre-cana, and human development for singles under forty years old, including those raised in Taipei.
In 1987 Father Doyle opened the Taipei branch of Maryknoll's Language Service Center, teaching the Taiwanese, Hakka, and Mandarin languages to newly arrived missioners.
Starting in 1979 Father Doyle served for three years as Assistant Regional Superior for the Maryknoll Taiwan Region and from October 1991 through September 1997 as Regional Superior. He was the Justice and Peace Coordinator and in May of 2013 was elected Second Assistant to the Maryknoll Taiwan Superior.
In 2017, Father Doyle was granted Republic of China citizenship by the National Immigration Agency. Father Doyle lived in Taiwan for over 56 years and worked to preserve and develop the Hoklo language for more than half a century.
Father Doyle is survived by his nephews, Alan G. Doyle, John B. (Marie) Doyle, James M. (Carol) Doyle, and Colin L. (Benjarak) Doyle, as well as John L. Doyle, Leah A. Doyle, Fig Doyle and Sean A. Doyle.
A Memorial Mass was held on May 20, 2021 at 11:00 a.m. in the Queen of Apostles Chapel. Father John Moran was Principal Celebrant and homilist. Father Timothy Kilkelly read the biography and Father Rodrigo Ulloa- Chavarry read the Oath.
A Mass of Christian Burial will be held in Taipei on May 29, 2021.