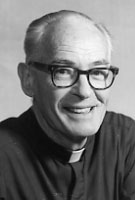 Father Albert E. Good, MM
Born: June 19, 1913
Ordained: June 16, 1940
Died: January 2, 1984
As I reflect upon the life of Father Albert Good, the thought comes to mind that it is fitting that Father Good should die on the 2nd of January when the text of today's Gospel parallels very much the life-style of this faithful Maryknoll priest. It speaks about the humility of John, the Baptist. This was the principal characteristic of Father Albert who never let his many talents and abilities conflict with his unassuming and unpretentious way of life.
We shall all miss 'Bert' Good who had a great sense of humility and reserve. We shall miss his clever sense of humor, his pleasant smile and his intelligent good judgment as he responded to Maryknoll and to mission over the years. His dedicated work in Africa, in the Brothers' Program, and during his last years in Development are contributions that still bear fruit and will continue long into the future.
Father Albert Edward Good, being one of six children, was born to Jeremiah and Margaret Good on June 19, 1913. After having completed two years at Boston College, he entered Maryknoll in September, 1933. Father Good himself tells us: "While at Boston College my desire of being a priest became evident; but the choice of the Order to which I would strive to belong was difficult. However, two days after the feast of St. Francis Xavier, I listened to a talk given by Father Keller. I thereupon decided on Maryknoll."
He was ordained on June 16, 1940. His first assignment was to do promotion work. In October, 1942 he was appointed as the Superior and Rector of the St. Louis house. In 1946 he received his mission assignment to Tanzania. His zealous missionary work gave him a good understanding of the people. He was considered to be an excellent missioner. One of the many tasks he carried out was to establish the Minor Seminary in Musoma. He also served as First Consultor to the Regional Superior. In 1960 he was appointed Novice Master to the Brothers at Brookline. Since 1967 he worked in the Development Department. In May, 1983 he was assigned to the Special Society Unit.
During the past several months Father Good experienced a great deterioration of his health. He took up residence at St. Teresa's and it was there that he died. Father Albert had a good understanding of missionary problems. Since he was always willing to change for the sake of mission and the Gospel, he could write this about himself in 1974: "I find my work facilitates and requires expansion, change and modification in my membership in Maryknoll, and in particular in my office as a priest."
The Wake was held on January 5, with Father Thomas McDermott officiating and Biography read by Brother Matthew Kirwan. Mass of Christian Burial took place the next day, with Principal Concelebrant Father Richard Callahan and Homily by Father Joseph Brannigan. Burial was in the Maryknoll Cemetery and Father James Weckesser officiated.