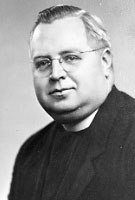 Father Albert J. Murphy, MM
Born: November 27, 1901
Ordained: January 27, 1929
Died: October 5, 1957
Albert J. Murphy was born in Springfield, Massachusetts, on November 27, 1901. After grammar and high school education in Springfield he entered Holy Cross College in 1920. Having completed his Sophomore year at Holy Cross he entered the novitiate of the Passionist Fathers where he became filled with the idea of going to China. With the recommendation of his superior he entered Maryknoll in 1923.
He was ordained on January 27, 1929 and in June of the same year was assigned to Fushun. He was interned during the war and repatriated to the States in 1942. At first he was at the San Juan Bautista Mission where he became pastor and remained until 1946 when that mission was returned to the Diocese.
Towards the end of 1946 he returned to Manchuria in the hope of resuming mission work there, but the Communists prevented that and he was forced to return to the States in 1947. He engaged in promotion work, becoming Director of the Seattle house until 1951. An interest and facility in languages was encouraged by sending him to Boston College for studies in French. After receiving his M.A. in 1952 he joined the faculty at Glen Ellyn. In 1954 he was back in the missions, this time at Taichung, Formosa where he worked successfully until 1957, when he fell ill. Shortly after, he returned to the United States for medical treatment. He died on the night of October 5.
One of Father Murphy's many good qualities was his sense of humor in the face of pain and sickness. Father Murphy was certainly faithful to the command of Psalm 99 "Servite Domino in laetitia."
The funeral and burial took place at Mountain View. Fr. Murphy's classmate, Fr. Joseph Regan, celebrated the Solemn Requiem Mass.