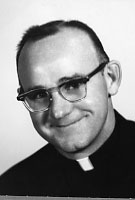 Father Albert L. Reymann, MM
Born: May 9, 1920
Ordained: June 15, 1947
Died: March 5, 2004
Father Albert L. Reymann died, after a long illness, in the evening of March 5, 2004 at St. Teresa's Residence. He was 83 years old and a Maryknoll priest for 56 years.
Albert (Algie) Leroy Reymann was born to Charles and Selma Zaber Reymann on May 9, 1920, in Akron, Ohio. He was the twelfth of sixteen children, having twelve brothers and three sisters. He graduated from Annunciation Grammar School and attended St. Vincent's High School, both in Akron. Later, he transferred to St. Joseph's High School in Collegeville, Indiana, graduating in 1938. After attending St. Joseph's College and studying at St. Mary's Seminary in Cleveland, he entered Maryknoll in August 1942 and was ordained at Maryknoll, New York, on June 15, 1947.
After ordination, Father Reymann was assigned to the faculty at the Maryknoll Apostolic College (Venard) in Clark's Summit, Pennsylvania, where he taught Latin. He received an M.A. in Social Science from Catholic University in 1950 and then taught Social Sciences at Maryknoll College, Glen Ellyn, Illinois. In April 1952, Father Reymann was assigned to the Maryknoll Central America Mission in Guatemala. He was assigned to the parish in Chiantla in the Diocese of Huehuetenango. There he helped the native community of believers to finish the construction of their authentic colonial church, the Shrine of 'Nuestra Senora de Candelaria.' His priority, as always, was in the formation of catechists for the 40 or more remote villages in the area. He also worked in the Rural Catholic Action movement and was instrumental in helping farmers with the latest in agricultural developments.
While in Chiantla, he helped the Holy Family Sisters from Belgium found their house of formation for native vocations. He also served for several years as the Vicar General of the diocese of Huehuetenango. During that time, his assistant in the parish was Fr. Victor Hugo Martinez, now the Archbishop of Quezeltenango.
Father Reymann's next assignment was to Cabrican in the diocese of Quezeltenango, where he continued forming catechists. He helped to build a church there and another in Huitan, always with the help of volunteer labor of the native population. They would cut trees and bring the beams for the construction, in addition to the other manual labor necessary for the building.
His next assignment was in the Parish of San Antonio in the San Marcos diocese. Wherever Father Reymann worked, he loved to be with and converse with the farmers. Like them, he had a love for the works of creation that they held to be sacred – Holy Earth, Holy Sun, Holy Rain and Holy Corn, because they were gifts from God.
His last assignment in Central America was to Sacred Heart Parish in a very poor part of the city of San Pedro Sula in Honduras. There he worked to help improve the living conditions of his parishioners. Because of his protesting the injustices there, he was arrested and shortly afterwards had to leave the country.
In early 1992, Father Reymann was assigned to the United States Region and again became briefly involved in Development work. (In the early 1980s, he had worked in the Development House in Philadelphia, Pennsylvania for a year.) After attending the Maryknoll Spiritual Renewal Program in September 1992, he began working in St. Bernard's parish in Akron, Ohio, and later became a pastoral assistant. He remained at St. Bernard's until, due to failing health, he moved to St. Teresa's in late 2003. Father Reymann was known as an affable priest with a quick wit and a great love for the poor. While working at St. Bernard's, he was respected for the missionary presence and zeal which he brought to the parish.
Wake services were held at 4:30 p.m. on March 12, 2004 at St. Teresa's, with Father Thomas Ahearn officiating, and at 7:30 p.m. in Queen of Apostles Chapel at Maryknoll Center where Father Charles Huegelmeyer officiated and Brother John Blazo read the biography. Mass of Christian Burial was concelebrated in Queen of Apostles Chapel on March 13, 2004 at 11:00 a.m. Father James Reymann was Principal Celebrant and Father George Ratermann homilist. Burial followed in Maryknoll Society Cemetery.