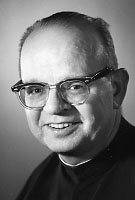 Father Albert V. Fedders, MM
Born: March 7, 1910
Ordained: June 16, 1937
Died: January 3, 1999
Father Albert Fedders died at St. Teresa's Residence in the afternoon of January 3, 1999. He was 88 years old and a Maryknoll priest for 61 years.
Albert was born on March 7, 1910, in Covington, Kentucky, tenth child of Frank J. and Mary Schiffer Fedders. Of the 8 boys and 6 girls in this close-knit, devout Catholic family, Albert and his younger brother Edward became Maryknoll priests. Edward became Bishop of the Juli Prelature in Peru, South America. Three of the girls became Benedictine nuns in Cincinnati. After early education in Catholic schools, Albert entered Maryknoll Apostolic College (Venard) in Clarks Summit, Pennsylvania, on September 6, 1928. He was ordained a priest at Maryknoll Seminary in Ossining, New York, on June 16, 1937.
Father Fedders was assigned to the Maryknoll Mission in Wuzhou, Kwangsi, South China, where he served for 15 years – 1937 to 1952. During language studies, he was appointed Rector of the Holy Family Seminary in Taan Chuk. He had to move the Seminary from Taan Chuk to Paak Sha and then to Topong because of the military situations. While on decennial Home Leave in 1947, he taught Latin and served as spiritual director for about 50 of the seminarians at Maryknoll Junior College, Lakewood, New Jersey. After nine years as Rector at Holy Family, he requested a parish assignment. The Chinese Communists invaded South China in late 1950 and Father Fedders and his Assistant, Father John Curran, were placed under house arrest in January, 1951. After a severe and painful public trial, the two were deported to Hong Kong in July, 1952. On August 8, 1952, Father Fedders was assigned to the Maryknoll Mission in Taichung, Taiwan, and appointed Director of the Maryknoll Language School. He became fluent in the language and developed a systematic method of learning Taiwanese. He published a two-volume Introduction to Colloquial Taiwanese and a Basic Vocabulary for Colloquial Taiwanese which are still in use today. Together with Protestant missionaries, he translated the Epistles and Gospels into the Romanization of the Taiwanese language.
On April 21, 1959, Father Fedders was assigned to the United States Region and appointed Rector of the Major Seminary and Local Superior at Maryknoll in Ossining, New York. He served two terms in these positions before returning to Taiwan in July 1965. On his return, he was appointed pastor of the Catholic Church in Erh Lin, Changhua Hsien. In 1991, he established a Kindergarten and a Youth Center. He organized a contemplative prayer group among the Maryknoll priests in Taiwan and unsuccessfully promoted a Contemplative Unit in the Maryknoll Society.
Father Fedders attended the Maryknoll Society's Seventh General Chapter in 1978 as Second Delegate from the Taiwan Region. On March 25, 1981, he was assigned to the Special Society Unit with continued residence and mission work in the Erh Lin parish. On February 18, 1987, at his request, he was reassigned to the Taiwan Region. In early 1996, Father Fedders moved to St. Teresa's Residence at Maryknoll, New York, where he resided at the time of his death.
Wake services were held at 7:00 p.m. on Thursday, January 7, 1999 at St. Teresa's and at 7:30 p.m. at Queen of Apostles Chapel at Maryknoll Center where Father John Kaserow officiated. Mass of Christian Burial was concelebrated at Queen of Apostles Chapel on Friday, January 8, 1999 at 11:00 a.m. Father Richard Albertine was Principal Celebrant and Father James Collignon homilist. Burial followed at Maryknoll Center Cemetery with Father Jeremiah Burr conducting the graveside service.