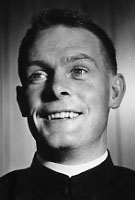 Father Alden L. Pierce, MM
Born: December 11, 1918
Ordained: June 15, 1947
Died: June 27, 1989
Father Alden "Mike" Pierce died on June 27, 1989 at the Westchester Medical Center, Valhalla, N.Y. He was 71 years old and a Maryknoll priest for 42 years.
Alden Louis Pierce was born in Boston, Massachusetts December 11, 1918, son of Alden and Elsa Nyberg Pierce. He had two brothers, Carl and Harold. He was graduated from St. John's Preparatory School in 1936 and studied at Boston College for a year before entering Maryknoll at the Venard. He was ordained on June 15, 1947. He maintained a high average all through his studies. Comments of various teachers indicate that he was considered a good student and among the best in his class in every department. In early life he developed a skill in carpentry and became a master cabinet maker.
After Ordination Father Pierce received a B.S. Degree in Mathematics at Manhattan College and then was assigned first to the Venard Faculty for a year and then to Brookline for 2 years. One Rector wrote: "He proved to be an excellent teacher, a good example to the students and an inspiration to them to see a priest so interested in so many things, doing all of them well."
In May, 1951 Father Alden was assigned to Musoma where he happily served the Church with zeal and energy. During his years of language study at Kowak he developed a proficiency in Kijoluo and Kiswahli and an excellent attitude towards the two people. Due to his skill in carpentry he was invaluable in mission building projects. As pastor in Kowak he built a beautiful permanent church, quite different from any of the other chapels in Africa. His superiors wrote that he was a good missioner who likes his people and is liked by them; a good organizer and administrator, a good builder and a perfectionist in many ways. He was open to trying new methods with his people and hence was very effective in his work. In 1957 he was appointed Pastor of the Masonga Mission for two years and then as pastor to the Tatwe Mission where he built another permanent church.
In 1963 he engaged in catechetical and liturgical studies at Lumen Vitae Institute, Brussels, Belgium, for 1 year. On his return to Africa in June, 1964, he was assigned to the staff of the Bukumbi Institute in Mwanza, to teach clergy and laity the latest developments in catechetics and liturgy. He gained a good reputation as an expert in those two subjects and was frequently consulted by many church leaders. Later he was transferred to the Gaba Pastoral Institute of Eastern Africa, in Kampala, Uganda. Due to the political situation in Uganda the Institute was moved to Eldoret, Kenya. Father served as chaplain at the Musoma College and continued teaching in the Gaba Institute.
While home on furlough in 1974 he was assigned to the Education Department and the Faculty at the Center, to teach mission catechetics and liturgy. Two years later he was appointed Director of Continuing Education for Maryknollers.
At this stage in life Fr. Alden, who had enjoyed good health through the years, health began to deteriorate. Illnesses began to beset him but he learned to live patiently and cheerfully with his lot.
In July, 1977, Alden was again assigned overseas to Apia in Western Samoa, to serve as Director of the Pastoral Institute at Moa Moa Theological College. Six months later he suffered another illness, and returned to the States. After recuperation he was assigned to the Hawaii Region but this assignment was terminated in 1979 because of illness. Returning to the Center he retired from all active work. He remained semi-active in several minor assignments for a few years and then he entered the Special Society Unit in 1984. Settled down at the Center, he opened a workshop for hobby crafts for himself and those residents who were interested. Many people treasure beautiful woodwork objects he made for them.
Wake service was held at St. Teresa's and the Center chapel on June 30, with Mass of Christian Burial in the Center Chapel the next day. Burial was in the Center Cemetery.