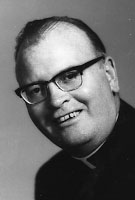 Father Alfred E. Smith, MM
Born: January 25, 1919
Ordained: June 10, 1945
Died: November 28, 1996
Father Alfred Smith died peacefully on Thanksgiving Day, Thursday, November 28, 1996, at 2:00 p.m. at St. Teresa's Residence, Maryknoll, New York. Father Smith was 77 years old and a Maryknoll priest for 51 years.
Alfred was born in Brooklyn, New York, on January 25, 1919, son of George and Katherine McGrath Smith. He had one brother and three sisters. He attended St. Simon & Jude grade school in Brooklyn. He graduated from Cathedral Preparatory School in 1935 and from Cathedral College of the Immaculate Conception, Brooklyn, New York in 1938. He entered the Maryknoll Society at Maryknoll College (The Venard), Clarks Summit, Pennsylvania, in September 1938. Alfred was ordained a priest at Maryknoll, New York, on June 10, 1945.
During his missionary career, Father Smith served in a number of Maryknoll Overseas Mission Regions as well as in the United States doing promotion and development work for the Society. His first assignment at the time of his ordination in 1945 was to the Maryknoll Mission Region in Guatemala, Central America. The following year he returned to the United States for medical treatment and surgery. In May 1947, he was appointed Local Superior and Promotion Director for Houston, Texas.
In April 1949, Father Smith was assigned along with three other Maryknollers to the diocese of Wuchow, China. However, when it was learned in June that passports would not be issued for missioners to South China, his assignment was changed to Japan. After language study, he was assigned to assist Father William Kaschmitter at the Tosei News Service in Tokyo. Due to a shortage of Maryknoll personnel in Hikone, Kyoto, Father Smith was assigned to that parish in May of 1951. His next 14 years were dedicated to pastoral work in various parishes in the Kyoto diocese.
In March 1964, after a Home Leave in the United States, Father Smith was assigned to the Maryknoll Mission Region in Bolivia to work with Japanese immigrants from Okinawa in the department and diocese of Santa Cruz de Ia Sierra. In July 1966, he returned to the United States on sick leave. After treatment and recovery, he was reassigned to Japan where he was named pastor of the Kusatsu parish and later to the Muroran parish in Hokkaido where he renovated the Church and was very active in pastoral activities. In March 1979, he returned to the United States for medical reasons. After recuperation, he was given a one year assignment as assistant pastor of the Maryknoll Japanese Mission in Los Angeles, California. In November 1980, Father Smith was assigned to the Maryknoll Mission Region in Hawaii and was named pastor of the parish in Pahoa and later St. Benedict's parish – The Painted Church – in Kona on the island of Hawaii, where he also worked with Philippine immigrants. In late 1984, he was assigned to St. Teresa's Residence at Maryknoll, New York, for medical treatment. At the same time, he was able to pursue a course of studies before returning to Hawaii.
Father Smith entered the Special Society Unit in January 1988, with residence in Hawaii and continued to do pastoral work as associate pastor of St. Anthony of Padua parish, serving in hospital ministry at the same time.
In 1990, Father Smith returned to the United States where he did pastoral work at Immaculate Conception Parish, Everett, Washington. He remained there until 1993 when he moved to Maryknoll Residence, Los Altos, California. Just three weeks before his death, he was transferred to St. Teresa's Residence at Maryknoll, New York.
Father Smith's seminary professors noted that he had a fine mind and was an earnest, serious, devout and hard working student. He was unselfish and generous with his time. Throughout his missionary career – both in his parochial work and his work in the Society's Development Department – his jocular personality drew people to him. His Superiors consistently commented on his zeal and hard work which brought spiritual growth to the people in the parishes where he worked. Father Smith suffered from various physical ailments throughout a good part of his life but bore them willingly and silently.
Wake services for Father Smith were held on Monday, December 2,1996, at 7:00 p.m. in St Teresa's Residence Chapel and at 7:30 in Queen of Apostles Chapel, Maryknoll Center, New York, where Father Charles Girnius officiated. The Mass of Christian Burial for Father Smith was concelebrated in Queen of Apostles Chapel on Tuesday, December 3rd at 11:00 a.m. Father Christopher Gibbons was Principal Celebrant and Father Jeremiah Burr homilist. Father Thomas Henehan read the final prayers.