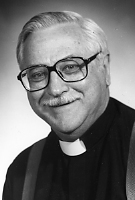 Father Alfred J. Fleming, MM
Born: January 18, 1931
Ordained: June 11, 1960
Died: February 5, 2014
Father Alfred J. Fleming died at St. Teresa's Residence on February 5, 2014.  He was 83 years old and a Maryknoll priest for 53 years.
Alfred James Fleming was born in New Brunswick, New Jersey, on January 18, 1931 to Alfred and Lena Thomas Fleming.  He had one brother, Kenneth and two sisters, Jean, and Carolyn, who are all deceased.  He attended Lincoln Elementary School, St. Peter's grammar school and graduated from St. Peter's High School in 1950.  He attended one year at Mt. St. Mary's College in Emmitsburg, Maryland.  A talk there given by Father Bishop, founder of the Glenmary Fathers, led to his decision to join Maryknoll, and in June of 1951 he entered the Venard, Clark Summit, PA.  Father Fleming was ordained on June 11, 1960 and assigned to Korea.
After language studies in Seoul, Father Fleming worked in the Diocese of Chong Ju in June 1961.  He served as assistant pastor in the parishes of Ok Chon, Se Un Dong, and Pu Gang, as administrator in the parish of Hwang Gan and Cheung Pyeng and as pastor at Chong San.  In addition, he served as Director of the Catholic Leprosy Service, following the death of Father Joseph Sweeney, MM in 1966, and was elected President of the Catholic Leprosy Workers Association in 1968.  In 1969 he returned to the United States for C.P.E. studies at St. Luke's Hospital in New York City.
Father Fleming returned to Korea in 1970 and was appointed pastor of the Chang Ho Won parish.  This was the oldest parish in the diocese, established in 1896.  And in 1977 he was blessed to turn the parish over to the Diocesan clergy.  The parish was known for vocations.  In 1978 Father was assigned to the Diocese of Seoul as pastor of the recently founded inner-city parish of Ok Su Dong.  In ten years, the people from this poor community built a Church, gave numerous vocations to the Church, and the parish was able to be turned over to the Diocesan clergy in 1989.
In 1990 Father Fleming was assigned to the Diocese of Suwon.  Here he served as pastor of the parish at An Jung where there were many seminarians.  In 1992 he was asked to establish a parish in Tawn Ji Sil, an outmission with 350 Christians in a very rural area.  While here the people worked diligently to build a church, which was to be named the "Pumpkin" Church.  For three years, they planted pumpkins which were sold on Sundays at city parishes in Seoul and Suwon, where the Christians were exceptionally generous and the new church debt was paid off one year after completion; a miracle of God's grace and their hard work and deep faith.  This church, too, was turned over to diocesan clergy in 1998.
In 1998, Father Fleming retired, but continued to reside at the Maryknoll Center House in Seoul, helping out when Maryknollers went on vacation or furlough and also assisted in local parishes.  After celebrating his 50th Jubilee in June 2010, Father took up residence at Mission St. Teresa's and was assigned to the Retirement Community in October of that year.
Wake services were held at 4:30 p.m. on February 13, 2014 at St. Teresa's, with Father James Gilligan officiating and at 7:30 p.m. in Queen of Apostles Chapel at Maryknoll Center where Father Ernest Lukaschek officiated and Father Martin Lowery read the biography.  Mass of Christian Burial was concelebrated in Queen of Apostles Chapel on February 14, 2014 at 11:00 a.m.   Father John J. Sullivan was Principal Celebrant and Father Leslie Blowers homilist.  Burial followed in Maryknoll Society Cemetery with Father Emile Dumas conducting the graveside service.