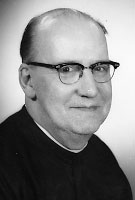 Father Allan J. Dennis, MM
Born: November 12, 1904
Ordained: June 5, 1932
Died: October 2, 1997
Father Allan J. Dennis died on Thursday, October 2, 1997 at St. Teresa's Residence, Maryknoll, New York. He was 92 years old and a Maryknoll priest for 65 years.
Allan Dennis was born on November 12, 1904, in Stapleton, Staten Island, New York, the only son of Charles G. and Inger Peterson Dennis. He graduated from Sacred Heart Grade School and then, feeling a call to the priesthood, went first to Cathedral College in New York City and then to St. Peters High School in Staten Island. He then enrolled at St. Charles College, Cantonsville, Maryland. At the end of his third year at that college seminary, after hearing a talk by Father James Anthony Walsh, the Superior General of Maryknoll, he applied for and was accepted at Maryknoll Seminary, Ossining, New York, on September 1, 1926. He was ordained a priest at Maryknoll, New York, on June 5,1932.
After ordination, Father Dennis was assigned to the Vicariate Apostolic of Kaying, South China, under Bishop Francis X. Ford, M.M. After language study in Hong Kong, he was assigned to teach science, mathematics and Latin at St. Joseph's Minor Seminary in Kaying where he served for nine years. He was then assigned as Pastor of Neu Yao Hang mission, a very mountainous area in Kwangtung Province, with about 490 Catholics scattered about in the hills.
The invasion of China by the Japanese army made it difficult to do mission work. In July of 1944, Father Dennis returned to the United States with a group of other Maryknoll priests who were also returning for a delayed decennial Home Leave.
After a short time at home, Father Dennis was assigned to the faculty of Maryknoll Junior Seminary (The Venard) at Clarks Summit, Pennsylvania, where he taught physics and mathematics. At the end of World War II, Father Dennis returned to the Kaying mission and was appointed Pastor of Yao Hang mission, which had a new church and a better location in the old mission in Kwangtung Province. With the help of three Chinese Sisters,he was able to baptize about 30 new Christians each year.Everything continued peacefully there until the arrival of the Chinese Communists and again his mission work was disrupted. After the Communists took over the Chinese government in 1949, Father Dennis was imprisoned in December 1950 along with Father Joseph Van den Bogaard and two Maryknoll Sisters. In March 1951,they were released and deported to Hong Kong. He returned to the United States for Home Leave and was granted permission to help out in his home Parish of the Sacred Heart on Staten Island near his elderly parents. He remained at Sacred Heart for twelve years and was very popular with the parishioners.
In May of 1964 Father Dennis was assigned to serve as a chaplain for the Irish Christian Brothers at St. Gabriel's Junior College, which occupied the campus that was Maryknoll Junior College in the late 1940s and 1950s in Lakewood, New Jersey. He remained in that position until the College was closed in August of 1968. His next assignment was to St. Erneric's parish in Manhattan, New York City, where he served as an Assistant Pastor. In April of 1972 Father Dennis suffered an injury and for recuperation was transferred to St. Teresa's Residence at Maryknoll, New York, becoming one of the first residents there. He continued to reside at St. Teresa's Residence as a member of the Retirement Community until his death.
During his years at St. Teresa's Residence Father Dennis enjoyed his hobby of building model ships, trains and planes. Among his models are the Titanic, a paddle-wheeler and a two-masted sailing ship – all crafted in intricate detail.
Wake services for Father Dennis were held Monday evening, October 6,1997, at St. Teresa's Residence Chapel and then at Queen of Apostles Chapel at Maryknoll Center, New York. Mass of Christian Burial was concelebrated the following day, October 7, at Queen of Apostles Chapel. Father James Lehr was the Principal Celebrant and Father Edward Manning preached the homily. Interment followed at Maryknoll Cemetery.