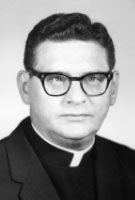 Father Alphonse A. Schiavone, MM
Born: April 13, 1920
Ordained: June 9, 1946
Died: January 28, 2009
Father Alphonse Schiavone died at Phelps Memorial Hospital, Sleepy Hollow, New York on January 28, 2009. He was 88 years old and a Maryknoll priest for 62 years.
Alphonse Albert Schiavone was born April 13, 1920, in Waterbury, Connecticut, son of Albert and Alice Lilly Schiavone. He attended Anderson grammar school and Crosby High School before entering St. Thomas Preparatory Seminary in 1937. After two years he entered St. Mary's Major Seminary on Paca Street in Baltimore, Maryland, where he a received a B.A. in Philosophy in 1941. He entered Maryknoll in September of that year and was ordained a priest at Maryknoll, New York on June 9, 1946.
After ordination, Father Schiavone was assigned to take higher studies at Catholic University in Washington, D.C. He received an M.A. in Latin in 1947, and then taught Latin and French in Lakewood.
In April 1949 Father Schiavone was assigned to Tanzania, and after six months in language school he worked in Musoma, among the Abikuria people. From 1954 to 1957 he worked in Maswa with the White Fathers. He returned to the United States in March 1957, and was assigned to Transfiguration Parish in New York City, where he remained for eight years.
In 1965 Father Schiavone returned to teaching, this time at the Catholic University in Puerto Rico. Father Schiavone was assigned to the Venezuela Unit in January 1969 and as a member of that Unit directed the Catechetical Institute in Manizales, Colombia.
Father Schiavone was granted two years for studies in 1973, and received a D.Min. from Andover Newton Theological School in Newton Center, Massachusetts in 1974. In 1975 he was assigned to the Education Department and to Hingham Seminary. He was appointed Rector of the Orientation Year Program at Hingham and in 1979 Father was appointed Coordinator of all Society Formation Programs. Until 1985 he served as Coordinator and Director of Formation and Education. In 1985 he was appointed as Director of the Office of Continuing Education, in which capacity he served until April 1989. Father Schiavone established the Spiritual Renewal Program in Israel in 1981.
In May 1989 Father Schiavone was assigned to the Office of Society Personnel (OSP), and continued in that work until November 2000, when that Office became known as the Department of Society Member Services. He was Administrator of Maryknoll's West Hempstead Transition House, which came under the auspices of OSP, until its sale in 2003, at which time, he moved to the Society Center and continued his work with the Department. He was one of the original members of the Wellness Initiative. Although health problems necessitated his move to Mission St. Teresa's in the spring of 2008, Father continued as Pastoral Counselor and accompanier for the Department, attending meetings at the Center.
Wake services were held at 4:30 p.m. on February 3,2009 at St. Teresa's and at 7:30 p.m. in Queen of Apostles Chapel at Maryknoll Center where Father Clyde Phillips officiated and Brother Kevin Dargan read the biography. Mass of Christian Burial was concelebrated in Queen of Apostles Chapel on February 4, 2009 at 11:00 a.m. Father John Moran was Principal Celebrant and homilist. Burial followed in Maryknoll Society Cemetery with Father Edward Dougherty conducting the graveside service.