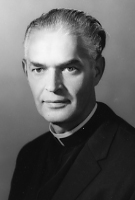 Father Anthony J. Karlovecius, MM
Born: June 13, 1921
Ordained: June 12, 1948
Died: April 9, 1969
Anthony Joseph Karlovecius was born in Chicago on June 13, 1921 and he received his early education there. He worked for a few years before entering St. Mary of the Lake Seminary at Mundelein in 1940. He wrote: "Maryknoll was a term foreign to my ears until that day in 1942 when Fathers Keller and Burns gave lectures at our seminary." In September, 1944 he entered Maryknoll at Bedford.
He was ordained to the priesthood on June 12, 1948 and departed for the mission of Wuchow that same year. In 1951 his mission was taken over by the Reds and he was evicted to Pingnam. For eight months he was under house arrest in China before being expelled.
Under this ordeal he became sick but recovered sufficiently in Hong Kong so that he could be assigned to Japan in February of 1952. There he worked until 1967 when he returned to the States on furlough and extended sick leave.
Father Karlovecius died on April 9, 1969 at his sister's home in Chicago after almost two years of suffering from an illness.
He was buried at Glen Ellyn on April 12, 1969 after a Funeral Mass in the Church of the Nativity, Chicago.