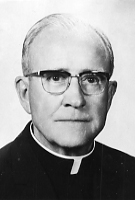 Father Arthur C. Kiernan, MM
Born: June 17, 1909
Ordained: December 8, 1932
Died: December 28, 1998
Father Arthur C. Kiernan died at St. Teresa's Residence in the evening of December 28,1998. He was 89 years old and a Maryknoll priest for 66 years.
Arthur was born on June 17, 1909, in Elmira, New York, son of Patrick hand Elizabeth Nixon Kiernan. He had three brothers and two sisters. After grade school, he entered Maryknoll Apostolic College (The Venard), Clarks Summit, Pennsylvania, on September 9, 1922 following in the footsteps of his older brother, Thomas, who had entered Maryknoll some years before.
In 1927, Arthur moved to the Maryknoll Seminary in New York for one year of philosophy studies. A year later, September 1928, he was assigned to pursue advanced degrees at the Angelicum University in Rome, Italy. There he received the Licentiate degree in philosophy in June 1930, and the Licentiate degree in theology in June of 1933. He later received and A.B. degree from the University of Scranton in Scranton, Pennsylvania. He was ordained a priest in the chapel of the North American College, Rome, Italy, on December 8, 1932.
Father Kiernan was appointed to the faculty of the Venard in May of 1933 and taught there until August 13, 1938, when he was appointed Local Superior of the Maryknoll House in Cincinnati, Ohio, for one year. In August 1939 he was appointed Rector of Maryknoll Junior Seminary, Los Altos, California.
After ten years of Formation/Education work, Father Kiernan was assigned on October 26, 1942, as Group Superior of the new Maryknoll Mission in Puno, Peru, South America. On February 10, 1948, he was relieved of the responsibility as Group Superior and assigned to visit all the South American Seminaries and make a report to the Superior General and his Council.
On his return from South America in April of 1948, Father Kiernan was appointed Rector of the Venard. When the Maryknoll College Seminary at Glen Ellyn, Illinois, was opened in 1949, he was appointed the first Rector of the new College, and served for six years in that capacity. In June of 1955 he was appointed Director of Formation for the Society with residence at Maryknoll Seminary in New York and in January 1956, he was elected Chapter Delegate for the U.S. Group IX for the Maryknoll Society's Fourth General Chapter held in August of that same year. On September 1, 1961 he was appointed Novice Master of Maryknoll Novitiate at Bedford, Massachusetts.
On March 25, 1964, Father Kiernan was assigned to the Maryknoll Mission Region in Bolivia, South America and appointed Director of the  Maryknoll Language School, Instituto de Idiomas – in Cochabamba. His assignment was to develop and improve the school in the teaching of the Spanish, Quechua and Aymara languages and he served admirably in that position. Under his direction, the school became known as the finest language institute of its kind in Latin America and perhaps even beyond. After 13 years as Director of the institute, he was assigned to the Special Society Unit on September 1, 1978. He then spent a year at Collegio Maryknoll in Rome for personal enrichment, taking courses in the Institute of Spirituality at the Angelicum University.
Upon his return to the United States, Father Kiernan was appointed Administrative Assistant to the Superior of Maryknoll Residence in Los Altos, California, on July 3,1979. Six months later, he entered full retirement. After the Loma Prieta, California, earthquake on October 17, 1989, that caused major damage to the Residence, Father Kiernan moved to St. Teresa's Residence at Maryknoll, New York, where he remained until his death.
Wake services were held at 7:00 p.m. on December 30, 1998 at St. Teresa's and at 7:30 p.m. at Queen of Apostles Chapel at Maryknoll Center where Father Richard Smith officiated and Bro. Robert Butsch read the biography. Mass of Christian Burial was concelebrated at Queen of Apostles Chapel on December 31, 1998 at 11:00 a.m. Father Gorden Fritz was Principal Celebrant and Father William D. McCarthy was homilist. Burial followed at Maryknoll Center Cemetery with Father Thomas Henehan conducting the graveside service.