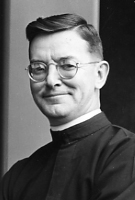 Father Arthur C. Lacroix, MM
Born: February 21, 1901
Ordained: June 5, 1932
Died: February 11, 1980
Father Arthur C. Lacroix (U.S. – Special Society Unit) died on February 11, 1980, in the intensive care unit of St. Agnes Hospital, White Plains. Since June, 1979, Art, with typical vigor, had been battling illness. His strength failed rapidly only in the last week before his death.
Born in Newton, Massachusetts, on February 21, 1901, Art was the sixth of eleven children born to Edward Lacroix and Mary Frechette. When Art was eleven, his father died as the result of an accident. Since at that time only one child in the family was old enough to work, and since the family was struggling to survive, Art helped by becoming an electrician, graduating from the technical course at Steans School in 1915. Such whole-hearted engagement of life seems to have been the measure of the man — learned from his family. Even Art's entrance to Maryknoll in September of 1921 was with great sacrifice on the part of his family in their backing of his priestly and missionary vocation.
During his formation years, Art was "above average in everything" not the least of everything being an excellence at hockey and baseball! In all his endeavors and relationships, Art was seen as frank and forthright; the man of integrity.
Art was ordained June 5, 1932, and assigned to Wuchow, where he served two terms as Consultor before returning to the United States because of the war. After a brief stint as Professor of French at the Maryknoll Seminary, Art returned to China, this time to Hong Kong, until 1950. Again Art had a brief tour in the States, this time on Development work. In 1952, he was assigned to Taiwan where he labored until 1979.
Throughout his life with Maryknoll, everyone considered Art to be forever young because of his youthful appearance and enthusiasm. Thirty years ago he quoted the adage, "Old age is loquacious", in reference to himself. His insight and gentle humor tempered his constant obedience with frankness, his enduring loyalty with perception.
In his work, Art was "single-minded", according to his superior, the true "pure of heart". Young men liked to work with him. He was noted as the best Maryknoller in opening new mission stations and was likewise applauded as the best in caring for the people in established stations.
On February 13, there was a wake service, led by Father Ronald Boccieri. Mass of the Resurrection celebrated on Thursday, February 14th, with Richard Zeimet as the Principal Celebrant, and Monsignor John Romaniello as Homilist. Burial followed in the Maryknoll Cemetery.
Less than one year ago, Art wrote: "My years in the missions, through the grace of the good Lord and his Blessed Mother, have been happy ones. Credit has been given to me more than I deserve, for I have had wonderful people whose devotion and zeal have been outstanding. Priests, Sisters, Catechists, and Lay People were of great assistance all through my missionary career. So I am very thankful to God for my priceless vocation and for having helped me in various ways all these years."