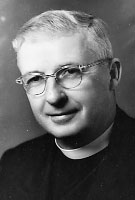 Father Arthur F. Dempsey, MM
Born: March 22, 1903
Ordained: January 27, 1929
Died:January 30, 1974
Arthur F. Dempsey died at Our Lady of Maryknoll Hospital in Hong Kong at about 3:30 a.m. January 30 after a long illness.
Father Dempsey was born on March 22, 1903, in Saint Michael's Parish in New York City. He studied at the parish school, and at Regis High School, and joined Maryknoll in September 1919.His Maryknoll studies were at the Venard, Maryknoll, and Catholic University in Washington, where he received an S. T. B. in 1927 and an M.A. in Education in 1928. Ordained on January 27, 1929, he was assigned that same year to the Wuchow Mission in South China, and became Temporary Society Superior of the Mission in 1936. In China during the war years, he was named Superior at Chungking in December 1944, and was awarded an Emblem for Meritorious Civilian Service by the U. S. Military Ordinariate in December 1945. After the Chinese Communist takeover, he arrived in Hong Kong and then returned to the U.S. in July 1951. In August 1952, he was assigned for one year to assist the Mission Secretariat in Washington, but returned to Hong Kong to do work among the refugees in October 1953. The onset of serious illness forced his return to the U. S. on several occasions the following two decades, but he returned once again to Hong Kong in July 1971, and was assigned to the Special Society Unit while remaining a member of the Hong Kong Region in August 1973.
A diligent worker on the missions in China, Father Dempsey had a strong personality and maintained a voluminous correspondence with the Center over the years. He wrote in 1970: "I want to live and work among the people IL love, to die among the people I love and to be buried with them." This wish of his has been fulfilled. As late as early 1972, he worked as a chaplain to young workers at the Caritas Center in Ngau Tau Kok in Hong Kong.
The funeral Mass was held in the Hong Kong Cathedral on Thursday, January 31, with the Bishop of Hong Kong as celebrant. Burial took place in Kowloon. Mass of the Resurrection was concelebrated at the Maryknoll Chapel at 11:45 a.m. on Friday, February 1, with Father George N. Gilligan as Principal Concelebrant, and Father Robert E. Sheridan as the homilist.