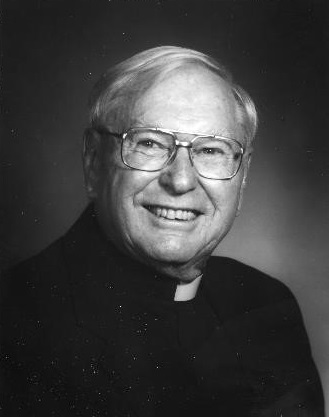 Father Arthur H. Wille, MM
Born: April 27, 1925
Ordained: June 9, 1951
Died: May 4, 2020
Father Arthur H. Wille died on May 4, 2020 at the Assisted Living Unit at Maryknoll, New York.  He was 95 years old and a Maryknoll priest for 68 years.
Arthur Henry Wille was born on April 27, 1925 in St. Louis, Missouri, son of Louis Wille and Clara E. Nuernberg Wille.  He was the third son of a family of five children. Arthur attended Holy Family School in St. Louis until the 5th grade.  At that time, his family moved to Watsonville, California.  There he attended Moreland Notre Dame Academy run by the Sisters of Notre Dame, who helped him greatly in his missionary vocation.  He entered Maryknoll Junior Seminary at Los Altos, California, in September 1939.  He obtained his Bachelor of Arts degree in Philosophy in 1950 and his Master of Religious Education in 1951.  He was ordained a priest at Maryknoll Seminary, New York, on June 9, 1951.
After ordination, Father Wille was assigned to the Maryknoll Mission in the Prefecture of Musoma, Tanganyika, Africa.  At the time of his arrival, this mission territory consisted of two long-established missions that had been built by the White Fathers and three recently-opened missions that Maryknollers had led since their arrival in 1946.
Father Wille's first assignment was to assist in opening and building the Komuge Mission among the Wasumbiti people in 1952.  He worked there until 1955 when he was assigned to open a new mission among the Wazanaki people at Zanaki.  There he had the good fortune of engaging Julius Nyerere as his language teacher.  Julius later led Tanganyika into independence and became the first President of Tanzania.  He had a profound influence on Father Wille, and they became close friends – Father was with President Nyerere when he died in London on October 14, 1999.  Father Wille lived and worked for ten years in the very large Zanaki Mission, in which a number of ethnic groups lived.
In 1965, Father Wille returned to the Komuge Mission and constructed and managed the Komuge Catechist Training Center.  He ran five two-year courses for 20 catechists and their families.  After directing this catechist program for ten years, he turned it over to two diocesan priests.  He then returned to parish work in Komuge and got involved in socio-economic projects such as a large drinking water project to bring water to five villages, an irrigation scheme, and cross-breeding of local Zebu cattle with Holsteins in order to enable the people to improve their standard of living.
Father Wille was asked by the Immaculate Heart Sisters of Africa to help them get land and build their new Postulancy and farm. The elders in the village of Kyabebe, one of 15 villages in Komuge Mission, generously gave the Sisters one thousand acres of land.  On it, Father Wille built the new Postulancy and a health center complete with a maternity clinic, outpatient dispensary, laboratory, and four wards.  As it was a dry area, it was necessary to build a large earthen dam to irrigate crops.  He was chaplain to the Sisters at Baraki for many years, while helping them to develop their modern farm, now known as the Baraki Sisters' Farm.
Over the years, Father Wille served on a number of Maryknoll Regional Councils.  At one time he was Vicar General to Bishop John Rudin of Musoma and served as one of his consultors in the Diocese.  For many years, he was an advisor and spiritual director to the Immaculate Heart Sisters of Africa.  He taught Scripture and Homiletics to the catechists at Komuge Catechist Training Center, and also helped the Christians in Komuge Parish to build a number of churches.
Father Wille remained in Tanzania until May 2003, when he returned to the United States and began residing with his sister at her home in Los Altos, California.  He was assigned to the Retirement Community (now Senior Missioner Community) in July 2003, but traveled regularly for visits to Tanzania.  He also continued to do church dates for Maryknoll and helped the Planned Giving office.  In February 2015, Father Wille took up residence at the Society Center in Maryknoll, New York.  He celebrated his 65th Jubilee as a Maryknoll priest in June 2016.
A Mass of Christian Burial was celebrated in Queen of Apostles Chapel on May 7, 2020.  Father Michael Snyder was Principal Celebrant and homilist, and Father Edward Davis read the Oath and biography.  Burial followed in the Maryknoll Society Cemetery.