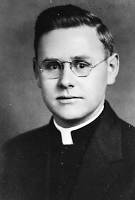 Father Arthur J. Briggs, MM
Born: July 8, 1909
Ordained: June 14, 1938
Died: March 25, 1987
"I consider the sufferings of the present to
be as nothing as compared to the glory to be
revealed in us." Rom. 8:18
Father Arthur Briggs had a strong desire to be a foreign missioner. In God's Providence, he had a rather unique fulfillment of that desire. He spent less than 5 years in South China and all the rest of his 49 years of mission service in the U.S. It was, in great part, a mission of suffering, but throughout those years he touched for good an untold number of confreres, students, Religious and people in parishes.
Arthur was born on July 8, 1909 at Fitchburg, MA, the second son of Everett T. and Lillian Mary Briggs. He attended St. Bernard's Parochial School in Fitchburg, and St. Patrick's High in Stoneham. As a boy, he had the notion of foreign missions in his mind for about nine years. His inclination toward the priesthood, he said, "came to him as he and his brother listened to their mother explain the dignity and power of the priestly office." Arthur also wrote he had first heard of Maryknoll when a Monsignor Walsh visited St. Patrick's Church and presented an interesting movie and lecture on Maryknoll missions in China. His words carried the weight of personal knowledge of and association with the Chinese people. In that lecture he painted a real picture of mission life, with all its joys, trials and sorrows. That night my career was decided. I would serve the mission cause personally and directly by becoming a missioner."
Following high school, Arthur joined the Society of the Divine Word, attended their novitiate and pronounced his first Simple Vows. After two years, however, he sought a dispensation from vows and joined the Maryknoll Society. At the time, he expressed "his reason for entering Maryknoll, besides wanting to be a priest/missioner, was the fact that in all my meetings with Maryknollers, be they priests, students or brothers, I have found nothing but kindness and the greatest pleasure. What impresses me most at Maryknoll is the oneness of spirit manifested by all."The example of his older brother, Everett, who was ordained a Maryknoll priest in 1933, also strongly influenced Arthur to join Maryknoll.
Arthur entered our novitiate at Maryknoll, N.Y. on Sept. 1, 1933 and later transferred to the newly opened novitiate at Bedford. After First Oath, on August 28, 1934, he completed his theological studies at the Center and was ordained on June 14, 1938 by Bishop Stephen Donahue, Auxiliary Bishop of N.Y. Archdiocese. He was assigned to Kaying Mission in South China. After language study Father Art moved up country to the Vicariate and settled down to mission work. In his mission at Kingning, while he was alone, an incident occurred that disturbed him very deeply. Some burglars came one night to rob the mission. He attempted to stop them robbing the tabernacle and suffered physical injury at their hands.
Due to the rigors of wartime conditions in South China, his health deteriorated to the point where, in April of 1944, he was accompanied home to the U.S. by two fellow missioners, Frs. James O'Donnell and Edward Youker. There followed some years of hospitalization and treatment. He gradually recovered but never regained robust health.
In 1946 he was assigned to Lakewood, N.J. and became the assistant librarian under Bro. Daniel Doherty; occasionally helping out in neighboring parishes. Soon he took on frequent help out assignments and several pastors requested his services for longer periods of time. An outstanding work which he enjoyed was, for 20 years, serving as Chaplain for the Marymount Sisters in Sea Girt, N.J. The Sisters revered him as the   "very holy little priest."
In July, 1956, he was assigned to the Center and served in much the same capacity as at Lakewood. Finally, he was transferred to the Special Society Unit and moved into St. Teresa's in 1968. He died there very peacefully on the Feast of the Annunciation, March 25, 1987.
Some comments of his Superiors at both Lakewood and Maryknoll, N.Y. reveal how Fr. Arthur fulfilled his life-long missionary vocation. "Given his limited capability, he does fine work and is always agreeable to an assignment.He has done remarkably well on some recent help-out dates. He is very generous. Apparently he impresses people very much." One priest summed up his life and work very well: "Fr. Briggs is charity and thoughtfulness personified. He has been helping out in neighboring parishes while pastors take time out for vacation. Father Arthur leads an exemplary life. He has plenty of time for his spiritual exercises and also keeps himself occupied taking care of the sacristy, altars, and helping the Brothers and Sisters."