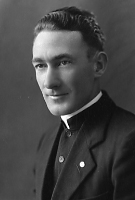 Father Arthur J. Cunneen, MM
Born: September 18, 1901
Ordained: June 5, 1932
Died: March 9, 1968
Arthur J. Cunneen was born in Framingham, Massachusetts on September 18, 1901. His grammar and high school training was in that city. After working a few years he entered the Venard in January of 1923.
He was ordained to the priesthood on June 5, 1932 and assigned to Wuchow. Returning on furlough in 1941, Father Cunneen obtained permission from his superiors to enlist as a Navy chaplain. With the Navy he attained the rank of Lieutenant Commander. In 1945 he returned to his mission in Wuchow. In 1952 he was assigned to the Center and then, in 1961 to Hawaii. 1966 saw him back at Maryknoll and the following year he went to the Venard.
Father Cunneen died on March 9, 1968 in Mercy Hospital, Scranton, Pennslyvania. The body was brought to Maryknoll and a concelebrated funeral Mass took place in the seminary chapel on March 12th. Father Mark Tennien preached the homily.