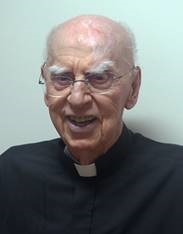 Father Arthur J. Dwyer, MM
Born: April 12, 1923
Ordained: June 11, 1949
Died: October 26, 2021
Father Arthur J. Dwyer, M.M. died on October 26, 2021 at the Assisted Living Center at Maryknoll, New York.  He was 98 years old and a Maryknoll priest for 72 years.
Arthur Joseph Dwyer was born in East Boston, Massachusetts, on April 12, 1923, only son of Joseph and Mary White Dwyer.  He graduated from Somerville High School in June 1940 and entered Maryknoll Junior College (the Venard), Clarks Summit, Pennsylvania, on August 1, 1940.  He was ordained at Maryknoll Seminary, New York, on June 11, 1949.
After ordination, Father Dwyer's first assignment was to Rome for studies in Canon Law and to serve as personal secretary to Cardinal Fumisoni Biondi, Prefect of the Congregation for the Evangelization of Peoples.  He received his doctorate degree in Canon Law in June 1952 from the University of St. Thomas Aquinas (Angelicum), Rome, Italy.  That same year, he was assigned to Maryknoll's mission in Peru and, after language studies, began working in San Juan Parish in Puno and then moved to Lima.
In October 1956, Father Dwyer was assigned to serve on the faculty of the Maryknoll Major Seminary.  Three years later on April 21, 1959 he was transferred to Maryknoll's Mission Region in Chile and served as Pastor in Temuco Parish.  He was instrumental in bringing the Cursillo Movement to Chile and considered that one of his most important contributions to his apostolic ministry.  Father Dwyer was appointed First Consultor to the Chile Regional Superior and was elected Chapter Delegate from the Chile Region to the 1966 General Chapter.  During the General Chapter, he was elected Second Assistant General of the Maryknoll Society.
Upon finishing the six-year term on the General Council, Father Dwyer was appointed Co-Director of St. Teresa's Residence in March 1973 and later Coordinator of the Special Society Unit as well as Director of St. Teresa's Residence.  At the end of his second term in January 1979, he was assigned to Maryknoll's Hawaii Region and served there for three years, mostly as Pastor of St. Joseph's Church and School in Hilo, Hawaii.  He was active in the leadership teams of Marriage Encounter Movement, Parish Renewal and Charismatic Apostolates of Hawaii.
In January 1983, Father Dwyer was again assigned to the United States and, after taking studies in Clinical Pastoral Education, was appointed to serve as Assistant Director of the Office of Society Personnel.  In 1985 he was elected as one of the Assistants to the Regional Superior for the U.S. Region.  In June 1989, Father Dwyer was assigned as Administrator of the Maryknoll Residence in Los Altos, California and also as first Coordinator for the Special Society Unit.  One of his greatest spiritual experiences was serving as Spiritual Director of the Sisters of Poor Clares at the Immaculate Heart Monastery at Los Altos Hills, California.  Father Dwyer was elected an official Chapter Delegate from the U.S. Region to the Ninth General Chapter held in 1990.  After completion of a second term as Administrator of Los Altos, Father Dwyer was re-assigned to the Hawaii Unit in March 1995 and in October 1995 was elected Unit Coordinator.  In this capacity, he was Chapter Delegate to the Tenth General Chapter held in Hong Kong in October 1996.
In October 1998 Father Dwyer returned to Maryknoll, New York where he continued the work of Fathers Vincent Mallon and Edward Davis in researching the lives and charism of the Maryknoll Founders.  Father Dwyer's expertise in Canon Law was of considerable value to the Society, and he continued to be consulted on Society matters pertaining to Canon Law.  He served for years as Defender of the Bond on the Marriage Tribunal of the Diocese of San Jose, Judge of the Second Instance on the Marriage Tribunal of the Archdiocese of San Francisco, and Judge of the First Instance on the Marriage Tribunal of the Diocese of Hawaii.  In April 2000 he joined the Retirement Community (now Senior Missioner Community) and in October 2004 moved to the Maryknoll Residence in Los Altos, California.  Father Dwyer was appointed Society Due Process Mediator in 2008.  In October 2011 he returned to reside at the Society Center at Maryknoll, New York.
A Wake service was held on October 29, 2021 in the Holy Spirit Chapel at the Maryknoll Society Center.  Mass of Christian Burial followed at 11:00 a.m. and was concelebrated in Queen of Apostles Chapel.  Father James Lynch was Principal Celebrant and Father Edward Dougherty was homilist. Father Francis Felter read the biography and Brother John Blazo read the Oath.  Burial of cremation remains will take place at a future date in the Maryknoll Society Columbarium.