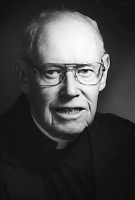 Father Arthur J. Prall, MM
Born: July 18, 1924
Ordained: June 14, 1952
Died: April 1, 2014
Father Arthur J. Prall died on April 1, 2014 at Mission St. Teresa, Maryknoll, New York. He was 89 years old and a Maryknoll priest for 61 years.
Arthur Joseph Prall was born on July 18, 1924, in Passaic, New Jersey, son of Arthur J. and Loretta E. Neilley Prall.  He had one sister, Sister Mary Arthur, SC who died in 1989.  He attended St. Nicholas Parochial School and graduated from Pope Pius XII High School in Passaic in June of 1943.  He entered Maryknoll Apostolic College, (Venard), Clarks Summit, Pennsylvania, on June 28, 1943.  After two years at the Venard and two years at Maryknoll, New York, he received his Bachelor of Arts degree in Philosophy in 1947.  He was ordained a priest at Maryknoll Seminary, New York, on June 14, 1952.
After ordination, Father Prall was assigned to the Maryknoll Mission Region in Bolivia, South America.  He was appointed Assistant Pastor of the parish in Montero, Santa Cruz.  In December 1954 he was assigned with Fr. Jack O'Brien to staff the San Pedro Parish in La Paz.  In October of 1955 he was assigned to the Shrine Parish of Cotoca, Santa Cruz.  In 1959 after six months of Aymara language study in the Catechetical School of Puno, Peru, he was appointed Pastor of the parish in Las Peñas on the altiplano of the Archdiocese of La Paz.  There he helped in the maintenance of the Radio Schools, San Gabriel and in the establishment of the Catechetical School for the altiplano of Bolivia.  While on home leave in July 1963, he was temporarily assigned to the Chicago Promotion House for development work in that area.
Father Prall returned to Bolivia in February 1964, and from then until December 1970 he was assigned to the Parishes of Achacachi and Huarina on the shores of Lake Titicaca where he was involved in parochial and catechetical work.  He returned to the United States in January 1969 and enrolled in the Clinical Pastoral Training course at the Connecticut Valley Hospital, Middletown, Connecticut.  In 1971 he continued his Clinical Pastoral Training at Central Islip Hospital and Holly Patterson Home on Long Island.  In January 1972 Father returned to Bolivia and the Santa Cruz Archdiocese, serving the two small towns of Montero Hoyos and Puerto Pilas on the Rio Grande River.  Although retired in June 2000, he continued that work until he returned to the United States in July 2009, when he took up residence at St. Teresa's.  Father Prall was assigned to the Retirement Community in November 2010.
Wake services were held at 4:30 p.m. on April 7, 2014 at St. Teresa's, and at 7:30 p.m. in Queen of Apostles Chapel at Maryknoll Center where Father Joseph La Mar officiated and Father Paul O'Brien read the biography.  Mass of Christian Burial was concelebrated in Queen of Apostles Chapel on April 8, 2014 at 11:00 a.m.  Father Emile Dumas was Principal Celebrant and homilist.  Burial followed in Maryknoll Society Cemetery with Father Edward McGovern conducting the graveside service.