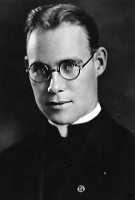 Father Austin N. Hannon, MM
Born: April 3, 1904
Ordained: January 27, 1929
Died: November 15, 1960
Fr. Austin N. Hannon, younger brother of Father Stephen Hannon, was born in New York on April 3, 1904. He attended St. Augustine's in the Bronx and later LaSalle Academy in lower Manhattan. He applied to Maryknoll in August of 1920 and went to the Venard the same year.
Father Hannon was ordained on January 27, 1929 and was assigned to teach at the Venard. The following year he was transferred to promotion work in the Cincinnati area. In 1931 he was assigned to Manila where he was Director of St. Rita's Hall, a hostel for university students. He was Executive Secretary for the Eucharistic Congress held in Manila in 1936. While in Manila he was also at various times Director of the Catholic Hour radio program, assistant chaplain at St. Mary's Hall and the Maryknoll Normal College, and Adviser to the National Federation of Catholic Young Men.
In 1939 Father Hannon returned to the States on decennial leave. He was assigned to the Venard faculty and also as Director of the Brothers the following year. In 1942 he was named Rector of Mountain View. In June of 1943 he volunteered for military service as chaplain for a Filipino Regiment and served in this capacity until 1946, when he returned to Mountain View. In 1947 he was assigned to the faculty of the new junior college at Lakewood, where he remained until 1954 when he went to Brookline to help in the formation of the postulant and novice Brothers. He continued at Brookline, devoting himself to the Brothers until October of 1960 when it was necessary to enter Kingsbridge Hospital in the Bronx for treatment of an obstinate throat condition.
On November 8th Father Hannon underwent an operation for cancer of the throat. The operation proved to be a drastic one and he was in serious condition the whole time after it. Then complications, brought on by pneumonia which set in during the last few days, made his condition critical. He passed away on November 15, 1960 at the hospital. Funeral and burial were at Maryknoll, N.Y.