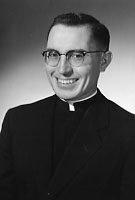 Father Benedict A. Zweber, MM
Born: January 7, 1932
Ordained: June 13, 1959
Died: March 26, 2001
Father Benedict Zweber died in the afternoon of March 26, 2001 at St. Teresa's Residence. He was 69 years old and a Maryknoll priest for 41 years.
Ben was born in New Market, Minnesota on January 7, 1932, the fifth of ten children born to Medardus and Evelyn Lieven Zweber. He attended St. Nicholas grammar school in New Market and graduated from Nazareth Preparatory High School in St. Paul, Minnesota. After three years at St. Paul's Seminary in St. Paul, he entered Maryknoll in September 1955. Father Zweber was ordained on June 13, 1959 and assigned to the Korea Region. His oldest brother, Clement, is a priest of the Archdiocese of St. Paul and his sister, Pauline, is a School Sister of Notre Dame teaching in St. Paul. His brother, John, had also been a Maryknoll priest.
After language studies, Father Zweber was assigned to the Inchon Diocese and the island parish of Yeng Pyeng Do. He adapted very well to life on the island, despite its isolation, by becoming, as described by a Superior: "…zealous, self-sacrificing, generous, devoted to the interests of the people." Since half of the people were refugees from North Korea, they faced numerous problems of hunger and sickness. With help from Catholic Relief Services he supervised food for work projects, such as making dikes to reclaim land from the sea for the growing of rice. He introduced the growing of seaweed to the area. Father Zweber built a hospital and with "The Star of the Sea" Hospital boat was able to bring medical help to the people on the scattered islands. At this time he also had a home for orphans and homeless children and began a program to send them to homes in the United States. His dedication was recognized by President Park, who bestowed on him the Medal of Civil Merit, the highest award given to foreigners by the Korean Government. After 14 years working on the islands, Father Zweber was assigned to work in Inchon City where he established three new parishes: Christ the King in 1977, Holy Family in 1982 and St. Paul (Ha Sang) Chong in 1987. While serving as pastor he continued his work with homeless children and in 1981 he was named Director of St. Vincent"s Home for Amerasian Children in Bupyong, which had been founded by Father Alfred Keane, M.M.
In early 1990 Father Zweber was assigned to the Development Department and worked in Minneapolis and later in Chicago. While attending the Maryknoll Spiritual Renewal program in the Holy Land, Father Zweber met Archbishop Francis Hurley, of Anchorage, Alaska, at Nazareth. At the time the Archbishop was recruiting priests to work in Siberia. Father Zweber immediately volunteered and in October 1997 was assigned to the Russian Far East along with Father Edward Schoellmann. Father Zweber was also pastor of St. James Church on Sakhalin Island, Russia.
Today, a new parish Church and multi-purpose center is under construction in Yushno Sakhalinsk. Father Zweber had planned this large project almost since his arrival, and thanks to the cooperation of Koreans in the area, he was able to get land and pursue this project. At the time of his death, Father Zweber was the Unit Coordinator of the Maiyknollers in Siberia.
Father Zweber made many contributions to the Church in Korea, especially the self-help programs for the starving people on the Islands after the Korean War, the founding of parishes, and the facilitation of over 1,000 Amerasian children for adoption in the United States, and lately Russian children adoptions in the U.S. Father Ben's zeal and enthusiasm for mission in Siberia, especially among the poor and orphans, make him a model for all Missioners. He has left us a great legacy.
Wake services were held on March 29, 2001 at 7:00 PM at St. Teresa's where Father Alfred V. Keane, M.M. officated, and at 7:30 PM at Our Lady Queen of Apostles Chapel at Maryknoll Center, where Father Robert A. Lilly presided. Father Joseph Veneroso read the biography. Mass of Christian Burial was concelebrated at Our Lady Queen of Apostles Chapel on March 30, 2001 at 11:00 a.m. Archbishop Francis T. Hurley, retired Bishop of the Anchorage, Alaska Archdiocese, was Principal Celebrant, con-celebrant was Father Ben's brother, Father Clement Zweber, and Father Michael Duggan, homilist. Burial followed at Maryknoll Center Cemetery with Father Jeremiah Burr, MM, conducting the graveside service.