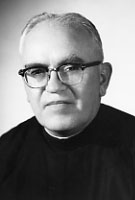 Father Bernard F. Wieland, MM
Born: November 20, 1908
Ordained: June 14, 1938
Died: May 5, 1998
Father Bernard F. Wieland died in the afternoon of Tuesday, May 5, 1998 at St. Teresa's Residence, Maryknoll, New York. He died peacefully, surrounded by his Maryknoll family, keeping vigil by his bedside. Father Wieland was 89 years old and would have celebrated his 60th Jubilee in June of 1998.
Bernard Wieland was born on November 20,1908 in Carroll, Iowa. He was the youngest child of twelve children, seven sisters and four brothers, born to James and Veronica Metz Wieland. Father Wieland's first cousins were deceased Maryknollers, Father Leo Steinbach who provided him with literature regarding Maryknoll and Brother Fred Steinbach. He graduated from Columbia Academy in 1929 and Columbia College in 1933. After graduating and being accepted by Maryknoll, he hitch-hiked from Iowa to Maryknoll Novitiate in September 1933 and was ordained a priest June 14, 1938 at Maryknoll, New York.
Wuchow, China was Father Wieland's first mission. He learned Cantonese and served there for twelve years until he was expelled by the Communists on January 2, 1952. Father Wieland's was next sent to Taiwan where he learned another dialect, Taiwanese. He became an assistant pastor and pastor over the twenty-three years he served in the country. One of his superiors wrote about him by stating, "He is truly a dedicated missioner and prodigious worker." Another position in the Region was as Second Consultor to the Superior in Taiwan from 1952-1962.
The Superior General wrote about Father Wieland on his silver jubilee in 1963, "You have been a good priest and missioner and a devoted member of our Society." In July 1975, he was appointed as Vicarius Cooperator at St. Therese Chinese Catholic Mission in Chicago. Most of the people in the parish spoke Cantonese, but since Father Wieland had not spoken Cantonese for 18 years, he had to re-learn and study the Cantonese language. The Chinese American Legion of Chicago honored Father Wieland as "Man of the Year" in February 1986 for all his dedicated work at Saint Theresa's. They all agreed he was the man of every day and every year, too! In July 1986, he was asked to work with a Community of Sisters in a Crisis Center for Abused Children in Houston, Texas. So, at the age of 77, Father Wieland stated he wanted to work like he did in China. He wanted to be among the poor and needy. Father Wieland worked with the children for years until 1992, at which time he entered the Special Society Unit and took up residence at St. Teresa's where he remained until his death.
Wake services were held at 7:00 p.m. on May 7, 1998 at St. Teresa's Residence Chapel and at 7:30 p.m. at Queen of Apostles Chapel at Maryknoll Center where Father Daniel Dolan officiated and Brother Tim Raible read the biography. Mass of Christian Burial was concelebrated at Queen of Apostles Chapel on May 8, 1998 at 11:00 a.m. Father Edward Manning was Principal Celebrant and Father Paul Brien, homilist. Burial followed at Maryknoll Center Cemetery.