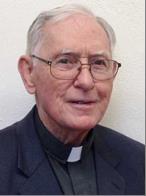 Father Bernard P. Byrne, MM
Born: October 13, 1928
Ordained: June 9, 1956
Died: May 5, 2018
Father Bernard P. Byrne died on May 5, 2018 at Mission St. Teresa's.  He was 89 years old and a Maryknoll Priest for 61 years.
Bernard Peter Byrne was born on October 13, 1928, in Anaconda, Montana, son of Peter J. and Rose Maguire Byrne.  He had two brothers, Thomas and James, and one sister, Sr. Alice Ann, a Dominican Sister.  "Pete" attended St. Peter's elementary school and graduated from Anaconda Central High School in June 1947.  In his hometown of Anaconda Father Byrne grew up alongside and was inspired by the witness of the family of the later Bishop of Helena and Archbishop of Seattle, Raymond G. Hunthausen.  He received a Bachelor's Degree in Philosophy from Carroll College in Helena before entering Maryknoll in September 1951.  He received his S.T.B. in Theology in 1955, and M.R.E. in Religious Education in 1956, both from Maryknoll Seminary, New York.  Father Byrne was ordained at Maryknoll, New York on June 9, 1956 and was assigned to the Development Department.
In April 1962, Father Byrne received his first overseas mission assignment to Peru, where he served for the next five years in various urban apostolates throughout the city of Lima. In 1967 he returned to the United States to do Development work, and was appointed Assistant Director of the Development Department in September 1969.  Father Byrne returned to Peru in 1973 and was appointed First Coordinator of the Latin America Regional Superiors.  He was appointed Regional Superior of the Peru Region in January 1978.  In October 1980 he was reappointed Regional Superior for a three-year term.
Father Byrne was assigned to the United States in July 1984 and to the Formation Education Department.  He served as Rector from September 1984 to June 1990 during which time he led the transition of the Formation candidates to the Catholic Theological Union (CTU) in Chicago.  In July 1990 he returned to Development work in Seattle promoting Maryknoll's mission education apostolate throughout the Northwest.
In July 1993 Father Byrne was reassigned to Peru.  He was elected First Assistant to the newly formed Andean Region (comprising Peru and Chile) in October 1995.  In November 1996, when Father Raymond Finch was elected Superior General, Father Byrne agreed to serve as Regional Superior until the end of the term.  He was granted the status of retired Maryknoller in February 1999 with continued residence and work in Peru.  There he organized small Christian communities to explore the issue of children's rights, something that was always close to his heart. Because of his passion for the care of children, he spent many years supporting and sustaining two residences for children in Lima.
Father Byrne was inducted into the Carroll College Alumni Hall of Fame in September 2000.  Early in 2001 he participated in the "Second Substantive Session of the Preparatory Committee for the Special Session of the General Assembly in 2001 for Follow-Up to the World Summit for Children" at U.N. Headquarters in New York.  In 2002, in a letter to Archbishop Wilton Gregory, Father Byrne wrote, "We must proclaim with integrity the moral/ethical teachings of Jesus on human dignity and the value of each person born into our world." In 2015 Father Byrne was honored as the Distinguished Alumnus of his alma mater Carroll College.
Father Byrne was assigned to the Senior Missioner Community (formerly Retirement Community) in September 2003 with residence at Los Altos, California, but he visited his beloved Peru often to support the project of the two children's residences.  He was appointed Second Assistant to the Superior of the Retirement Community effective March 1, 2012 for a three-year term.
In March of 2017, Father Byrne returned to Maryknoll, New York.  He took up residence at Mission St. Teresa's, where he enjoyed meeting with other Members to participate in a mission study and reflection group.
A Rosary and wake service was held at 4:00 p.m. on May 9, 2018 at Mission St. Teresa's.  The Rite of Reception took place at the Maryknoll Society Center at 9:30 a.m. on May 10, 2018.  Father Byrne's family received condolences and prayers until 10:45 a.m. in the Lady Chapel.  The biography was read by Brother John J. Blazo.  Mass of Christian Burial followed at 11:00 a.m. and was concelebrated in Queen of Apostles Chapel.  Father Joseph W. Kowalczyk was Principal Celebrant and Father Ernest C. Lukaschek was homilist.  According to Father Byrne's wishes, he was cremated and his cremains were placed in the Columbarium at Maryknoll, New York.