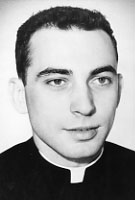 Father Bertrand Gramelspacher, MM
Born: August 17, 1930
Ordained: June 8, 1957
Died: February 15, 1979
Father Bertrand Gramelspacher died in the Kusatsu Hospital at 11:45 a.m. on February 15, 1979.
Father was born on the 17th of August 1930 in Jasper, Indiana, son of Claude Gramelspacher and Marie Cassidy. Graduating from St. Joseph's Parochial School he entered St. Meinrads Minor Seminary and after six years of study was accepted into Glen Ellyn in 1950. He was ordained on June 8, 1957, assigned to Japan and departed for his mission on July 25th of that year.
Among his many duties in the Japan Region was his assignment as Secretary of the Apostolic Nunicature in Tokyo from 1967 to 1971. In 1973 he was assigned to the Development Department where he served for one year and then returned to Japan. At the time of his death he was teaching at a special school run by the Ministry of Transportation and helping in the parish in Kyoto each weekend.
Father Bert exhibited happiness in his vocation as a missionary priest, and he was personally disciplined toward prayer and spiritual reading. He was always very involved in his work, was dependable and had initiative. He was well organized and worked well with others as a team.
By special arrangement of the family, the body of Father Bert was returned to Jasper, Indiana, for the funeral and burial. The Mass of the resurrection was celebrated there at St. Joseph's Church on February 19, and a concelebrated Mass was offered in the Maryknoll Chapel on February 23 with Father Ray Hill as principle celebrant and Father Jerry Beausoleil preached the homily.