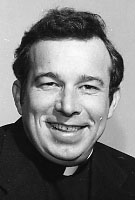 Father Brendan J. Fullam, MM
Born: October 7, 1944
Ordained: May 22, 1976
Died: March 20, 1996
Father Brendan Fullam died at about 6:30 P.M. on March 20, 1996, in Korea. He was 51 years of age and a Maryknoll priest for 19 years.
Brendan was born on October 7, 1944 in New York City, son of Joseph and Mary Carroll Fullam. He has one sister, Nora Wanamaker and two brothers, Robert Fullam and Joseph Fullam. Brendan attended St. John's Prep High School in Brooklyn, New York and graduated in 1962. Prior to his entrance into Maryknoll he worked for a year and a half as an electrician apprentice.
From August 1964 to May 1965 Brendan attended The School of St. Philip Neri in Boston, Massachusetts. On September 1, 1965 Brendan entered Maryknoll College, Glen Ellyn, Illinois and in 1969 earned his Bachelor's Degree in Philosophy. He entered the Maryknoll Novitiate, Hingham, Massachusetts in the fall of 1969 and on May 20, 1970 pronounced his First Oath to the Society.
In September of 1970 Brendan began his Theological studies for his Master of Divinity Degree at Maryknoll, New York. He was sent to Korea in August of 1972 to begin his Overseas Training. Brendan studied Language until June 19723 and worked in parishes of Yeong Dong and Jang Ho Won. He returned to Maryknoll to complete his Theological studies in the summer of 1975.
On February 18, 1976 Brendan pronounced his Perpetual Oath to the Catholic Foreign Mission Society of America and was ordained a Deacon on February 21, 1976 by Bishop James Edward Walsh. In May of 1976 he completed his Master of Divinity Degree at Maryknoll Seminary and was ordained to the Priesthood on May 22, 1976 by Maryknoll Bishop Edward McGurkin. Father Fullam was assigned to the Korea Region effective July 1, 1976.
Father Fullam held many pastoral assignments during his years in Korea. In 1976 he was assigned to the Diocese of Inchon where he served as Assistant Pastor in Song Rim Dong and Kan Suk Dong Parishes. He returned to the United States for a temporary period of time from 1978-1980. Upon his return to Korea in 1980 he became Assistant Pastor at the Am Sa Dong Parish in the Archdiocese of Seoul. In 1984 he was assigned as Chaplain at Holy Family Hospital in Puchon City, Inchon Diocese. In 1987-1988 Father Fullam took part in the Institute for Spiritual Formation at St. Louis University, St. Louis, Missouri where he earned a certificate in Spiritual Formation. Father Fullam returned to Korea in 1988 and continued his ministry as Chaplain to the Sacred Heart Home for the Elderly operated by the Little Sisters of the Poor in the Chong-Ju Diocese. He also taught English at the Korean Air Force Academy and was Spiritual Director for many of the cadets.
Father Fullam experienced struggles in his life from time to time. He always confronted these struggles with great willingness, faith and confidence and seemed to know that the struggles would bring him closer to God. In the mid-1980's Father Fullam wrote a letter to a fellow Maryknoll priest reflecting on his gifts, abilities and limitations: "I hope that when this present personal struggle is over I will be my old self again and more confident. Pray for me that I will learn to pray more deeply and develop my spiritual life. I love Maryknoll and all that Maryknoll has done for me. I pray that I will once again be more confident as a Maryknoll Missioner in Korea which is really all I want from life. I believe that God is asking me to be that missioner even though I am a little broken at the seams. Thanks again for your love, encouragement and concern all these years." A fellow Maryknoller recalls Fr. Fullam being person oriented, very fond of the Korean people and a good listener. Fr. Fullam especially enjoyed the company of his fellow Maryknollers. His hearty laughter was a welcome sound at community gatherings.
A wake was held for Father Fullam at the Sacred Heart Home for the Elderly on Wednesday evening, March 20, 1996. A funeral Mass was celebrated at the Parish Church of Sach'Chon Dong in Chong-Ju at 11:00 A.M. on Thursday, March 21. Principal celebrant was Father Roman Theisen and homilist was Father James Najmowski. Interment. followed at the Diocesan Cemetery of Chong-Ju.