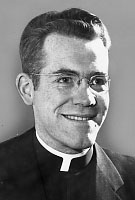 Father Brendan P. Smith, MM
Born: September 23, 1923
Ordained: June 10, 1950
Died: April 10, 1989
Father Brendan Patrick Smith died in a hospital in San Francisco on April 10, 1989. He was 65 years of age and a Maryknoller for 51 years.
Brendan was born in San Francisco on September 23, 1923, son of Charles and Rose Hannigan Smith. Both parents were born in Ireland. He had three brothers and one sister. Prompted by reading and a mission talk by Fr. Arthur Allie, he entered Maryknoll at Los Altos in 1938. The Maryknoll seminarians attended St. Joseph Junior Seminary in Mountain View and Brendan was graduated in 1943. He received his philosophical and theological degrees at the Center. During his summer vacations he did graduate studies in advanced mathematics at the University of San Francisco. He war ordained at New York on June 10, 1950. At that time many newly ordained were being prepared to serve on seminary faculties, so Father Brendan was one of seven in his class to be assigned to higher studies. In June of 1951 he received the Bachelor of Science Degree in Education and also took additional night classes in Education at Fordham University In 1951 he was assigned to the Faculty at Lakewood and taught Physics, Moral Guidance and Mathematics for 3 years.
In June, 1954 his dream came true and he was assigned to Musoma, where he served for almost 34 years. For his first 5 years he was happily engaged in pastoral ministry among the people and also teaching English, Math and Latin at St. Pius X Seminary in Musoma. His African languages were Kikuria and Kiswahili. While on special furlough in 1960 he taught Geometry and Trigonometry at St. Joseph College in Mountain View but his heart was not in the assignment and after a year he returned to Africa in mid-1961. His principal mission work was teaching in a secondary school operated by the Musoma Mission. In 1964 he went to the Rosana Parish and settled there to pastoral work for 17 years. His superior wrote that "he was a good, solid, spiritual missioner, intelligently interested and has the energy to organize his mission progress." Another wrote: "he is a good missioner, likes the people and is liked by them. He does a lot of worrying when he has to make decisions pertaining to their welfare." He was appointed Procurator for the Tanzania Region and served in that capacity from 1981 until he returned home in August, 1988 for reasons of health.
A concelebrated Mass of Christian Burial was offered for Father Smith at St. Ann's Church in San Francisco on April 13. Burial took place in the cemetery at Los Altos. A Memorial Mass was offered at the Center, with his classmate Fr. John Harrington as principal Celebrant and the Homily was given by Fr. George Delaney, his fellow missioner from Tanzania.