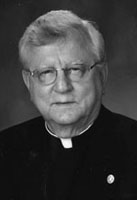 Father Joseph R. Lang, MM
Born: August 22, 1925
Ordained: June 14, 1952
Died: April 9, 2016
Father Joseph R. Lang died on April 9, 2016 at Mission St. Teresa's, Maryknoll, New York.  He was 90 years old and a Maryknoll priest for 63 years.
Joseph Ralph Lang was born on August 22, 1925 in Lake Worth, Florida, son of Joseph R. and Mary Margaret Babione Lang.  He had two brothers and three sisters.  He attended St. Ann's Parochial School in West Palm Beach, Florida and then enrolled as a seminarian for the St. Augustine Diocese, Florida, at St. Charles College, Catonsville, Maryland.  In 1945 he entered old St. Mary's Seminary, Baltimore for the first year of Philosophy and then transferred to Maryknoll Major Seminary in Ossining, New York.  At this seminary he received his Bachelor of Arts degree in Philosophy, his Master of Religious Education degree, his Bachelor of Sacred Theology degree and was ordained a priest on June 14, 1952.
After ordination, Father Lang was assigned to the Maryknoll Mission in Puno, Peru.  After language study, he was appointed in 1953 as Professor and Procurator in the Interdiocesan Minor Seminary of St. Ambrose and also as Procurator for the whole mission in Puno.  In 1957 he was appointed Assistant Pastor of San Miguel Parish in Ilave where, as part of his catechetical work, he had a prayer book printed in the Aymara language.  In 1959 he became Assistant Pastor of Our Lady of Pilar Parish in Arequipa, where he served for three years, finishing construction of the grammar school and starting construction of the high school.  Father Lang also served as Acting Pastor of St. Rose of Lima Parish, Lima, Peru for a short time.  He also served as Rector of St. Ambrose Minor Seminary in Puno, during which time he built a new seminary on the shores of Lake Titicaca.
In 1968 Father Lang was recalled to the United States and appointed Assistant Treasurer.  As part of his work, he took Accounting and Business Administration courses at Pace College, Valhalla and at New York University in New York City.  He served as Treasurer General for five years.  Effective September 1, 1974 Father Lang was appointed Procurator General of the Society with residence in Collegio Maryknoll, Rome, Italy.  In addition to his duties as Procurator, in 1979 he was appointed Rome Director of the Pontifical Mission for Palestine, connected with the Sacred Congregation for the Oriental Church and the Catholic Near East Welfare Association and also served as Secretary to the on-going forum of the fifteen Missionary Societies of Apostolic Life for five years.  In 1981 he was co-organizer of the SEDOS Research Seminary and co-editor of the book "Mission Dialogue."
Father Lang was recalled to Maryknoll, New York in April of 1981 and appointed Executive Secretary to the General Council responsible to the Superior General.  On September 20, 1984 he was appointed Executive Director of the U.S. Catholic Mission Association in Washington, D.C. (USCMA), where he served for six years.  One of the highlights of his service with USCMA was the organization of the Ecumenical Mission Consultation, "Divided Churches/Common Witness: An Unfinished Task for U.S. Christians in Mission" in October 1987.  During this time, he was named a Vatican Observer for The World Council of Churches Assembly in San Antonio, Texas in 1989.  In 1991 he was reappointed as a Vatican Observer for the World Council of Churches Assembly in Canberra, Australia.  After finishing his term at USCMA, Father Lang returned to Maryknoll, New York as the Financial Development Officer for the Maryknoll School of Theology.  Father Lang was assigned to the SSU in August 1995 and took up residence at Ascension Parish in Boca Raton, Florida, where he helped as an Assistant.  He joined the Senior Missioner Community in January 2001 and moved to Mission St. Teresa's Residence in February, 2008.
A Rosary and wake service was held at 4:00 p.m. on April 11, 2016 at St. Teresa's.  The body was received at the Maryknoll Society Center at 9:30 a.m. on April 12, 2016.  Father Lang's family received condolences and prayers in the Lady Chapel until 10:45 a.m.  The biography was read by Father Richard Callahan.  Mass of Christian Burial followed and was concelebrated in Queen of Apostles Chapel at 11:00 a.m.  Fr. Richard Aylward was Principal Celebrant and homilist.  Burial followed in Maryknoll Society Cemetery.