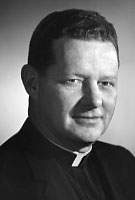 Father Carroll I. Quinn, MM
Born: December 21, 1918
Ordained: June 10, 1945
Died: January 16, 2003
Father Carroll Quinn died the morning of January 16, 2003 at St. Teresa's Residence, Maryknoll, New York. He was 84 years old and a Maryknoll priest for 57 years.
Carroll Ignatius Quinn was born December 21, 1918, in Baltimore, Maryland, the son of William and Helen Holbein Quinn. He had four brothers and three sisters. He attended Cathedral grade school in Baltimore and St. Charles College high school, Catonsville, Maryland, before entering Maryknoll Apostolic College (Venard), Clarks Summit, Pennsylvania in 1936.
Father Quinn was ordained on June 10, 1945 and did promotion work in the United States until his departure for China in 1947, where he worked in the Kongmoon Diocese, Gate of Heaven Leper Colony (Ngaimoon Leper Hospital) in Kwangtung Province. During his last four years there the Fathers were put under house arrest by the Chinese Communist forces, but allowed to continue to care for the patients. Father Joseph Sweeney, M.M. and Father Quinn were under arrest from October 1949 until October 1953. After being expelled from the country in 1953, he worked for a time in Hong Kong among Chinese refugees.
In 1954, Father Quinn was assigned to the United States and did promotion work in the Chicago area. He was elected as a Delegate to the Fourth General Chapter in 1956. In 1957, he was appointed Assistant Director of Promotion in charge of Promotors and Promotion Houses and in 1961 was appointed Director of the Development Department.
Father Quinn was assigned to Guatemala in 1964, where he ran four different schools in Chiantla, Huehuetenango and helped feed more than 200 children daily. During his assignment in Chiantla, Father Quinn started a night school (primary) for adults, a sheep project, a drinking water project for seven villages, two co-ops and rebuilt the Shrine of the Silver Virgin, a National Monument, which had been ravaged by the 1976 earthquake. While remaining a member of the Central America Region, Father Quinn was elected second official delegate for the Special Society Unit at the Ninth General Chapter held in 1990. In 1993, due to a cerebral thrombosis which paralyzed his left side and partially affected his speech, Father Quinn left Guatemala and moved to St. Teresa's Residence, Maryknoll, New York. However, in December 1994, he recovered sufficiently to receive is third mission assignment, this time to Taiwan, where he worked for five years before returning to the United States and St. Teresa's in April 1999. Father Quinn joined the Retirement Community in March 2000.
Wake services were held at 4:30 p.m. on January 20, 2003 at St. Teresa's, with Father Thomas McDonnell officiating, and at 7:30 p.m. in Queen of Apostles Chapel at Maryknoll Center where Father Gerald Nagle officiated and Father David LaBuda read the biography. Mass of Christian Burial was concelebrated in Queen of Apostles Chapel on January 21, 2003 at 11:00 a.m. Father Joseph LaMar was Principal Celebrant and Father Charles Huegelmeyer homilist. Burial followed in Maryknoll Society Cemetery with Father John J. McAuley conducting the graveside service.