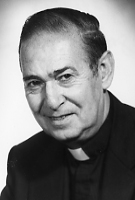 Father Casper C. Corso, MM
Born: June 16, 1927
Ordained: June 11, 1955
Died: July 9, 1989
Father Casper Christopher Corso died in Nairobi on July 9, 1989. He was 62 years old and a priest for 34 years. Among Maryknollers he was known as "Joe" and even occasionally signed his name as Father Joseph Corso.
Casper was born in Detroit, Michigan on June 16, 1927, son of Joseph Corso and Emanuela Dimiceli. He had one sister and two brothers. Their parents died when the children were very young. Casper attended Our Lady of Carmel grade school and spent 2 years at St. Joseph's Commercial High School. He entered Maryknoll in 3rd year high at the Venard. When asked what attracted him to Maryknoll he wrote that he had a real interest in the foreign missions since the 8th grade when a Maryknoll priest showed movies at the school. He was ordained at Maryknoll on June 11, 1955.
His first assignment was to Musoma. After language studies at the Kowak Mission he was appointed pastor of the new mission at Muhoji in 1957. With his pleasant personality he quickly made friends, especially among the laity. His superiors wrote that "he was a good missioner, a very hard worker, zealous and enthusiastic". The pastorate at Muhoji required much travelling in the District. He designed and built the Church of Christ the King at the center. In 1964 he was named pastor of Masonga in North Mara, where he served among the Bantu and Luo people for 3 years. While on furlough he underwent surgery at Providence Hospital in Detroit and then returned to Tanzania where he became pastor of the Tarime Mission.
Returning to the States for home leave in 1974 he was assigned to Development work in Metairie, Louisiana for 3 years. He then attended the Mission Renewal Program in 1977. After recuperating from some illness, he was assigned to Kenya as assistant pastor at the Kebirigo Catholic Church in Kisii, 250 miles from Nairobi. He celebrated his 25th Ordination Anniversary at Maryknoll Center with his family and classmates in 1980. In September of that year he attended and thoroughly enjoyed the Scripture course in the Holy Land conducted by professors from the Chicago Theological Union. Again he returned to Kenya to serve in the parish of Burnt Forest, Eldoret. He became very active in full-time Marriage Encounter and Family Life programs and retreats with various groups in and around Nairobi.
Father Corso came back to Maryknoll due to illness in September, 1984, returning after recuperation to Kenya. At this time there was a great expansion of the Family Life and Marriage Encounter programs and he was appointed National Director of same by the Kenya Episcopal Conference. Together with lay partners, stress was placed on making the programs available to working people. This was accomplished by the translation of the materials into Kikuyu and Kiswahile languages. Once the material was in Swahili the door was open to even wider participation and Fr. Corso travelled extensively throughout the country. He recently took up residence in the new Society house in Nairobi, where he died.
A concelebrated Mass was offered by members of the Kenya Region and interment followed in the Maryknoll plot in St. Mary's Cemetery, Nairobi. At the Center in New York Mass was also concelebrated on Friday, July 14 with Fr. Kenneth Thesing as principal celebrant and Fr. James Lenihan as Homilist.