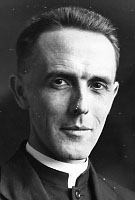 Father Charles C. Eckstein, MM
Born: September 13, 1896
Ordained: May 31, 1925
Died:October 10, 1974
Father Cody Eckstein died at St. Teresa's, Maryknoll, New York, early on the morning of October 10, 1974.
Charles Cody Eckstein was born on September 13, 1896 in Hogskin Holler, near the town of Boscobel in Southwestern Wisconsin. Describing his early history, Code wrote, "finishing high school at Boscobel, I spent two years in various occupations; namely, farming, apprentice to a cheesemaker, teaching in a country school, attending a business college in Dubuque, Iowa and  loafing." A dry wit, never harsh, always kind was a trademark of this gentle self-effacing member of our Family from the day he entered the Society in September 1920, until the day he died.
Ordained on May 31, 1925, Cody was assigned to the Venard for a year. In 1926 he was assigned to Kaying where he worked closely with Bishop Francis X. Ford. He served as Pro-Vicar of the Vicariate Apostolic of Kaying, South China and as Rector of the Seminary established by Bishop Ford to prepare priests for the local Church. In 1940 he was appointed Society Superior of Kaying. His remarkable career included Z3 years of dedicated service to the Society as a member of the Development Department, 19 of which were spent in our Chicago Regional Office.
On September 14 of this year, Cody traveled to New York where he completed his service to Almighty God and to the Society where he had begun many years ago.
The wake was held in the Society Chapel at Maryknoll, Friday evening, October 11 at 7:30 p.m. Mass of the Resurrection was concelebrated Saturday morning, October 12, at 11:00 a.m. with Father Robert Sheridan as principal concelebrant and Father Quinn Weitzel as homilist.