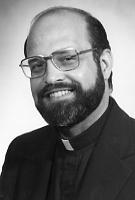 Father Charles E. Buraus, MM
Born: February 29, 1952
Ordained: May 16, 1981
Died: September 8, 1992
Father Charles E. Buraus died in his rectory at St. Teresa Catholic Church in Fushimi, Diocese of Kyoto, Japan. His doctor found him dead on Wednesday morning, September 9 at 7:30. The doctor estimated that he died peacefully without pain at about 9:00 p.m. Tuesday, September 8, 1992. He was 40 years of age and a Maryknoll priest for 11 years in Japan.
Charles Edward Buraus was born on February 29, 1952 in Tottenville, Staten Island, New York, son of Howard C. and Shirley Prentice Buraus. With his parents there are three brothers and one sister in his family. Charles attended his first two years of grammar school at St. Clare's Parochial School and the rest in Public School #41, both on Staten Island. He graduated from Monsignor Farrell High School in June 1970; and completed four years study at Douglaston Cathedral College, Queens, New York and earned a Bachelor of Arts degree in History in June 1974. His vocation of service for others began early in his life. His reflections in his autobiography on his high school days indicate how this vocation of service developed. I was always an honor student and I began to take an active interest in literary publications, historical activity clubs, the Red Cross and my Parish Catholic Youth Organization. I eventually became the editor of our history magazine, Perspective, the vice-president of the Staten Island Red Cross Youth and President of the CYC. I did volunteer work in the Sea View Hospital and Home and worked to pay my tuition in a movie theater. In all of these activities I developed lasting friendships and a love for people and working with people. He wrote that "at Cathedral College I developed a love of prayer, a social consciousness to go out to persons suffering physically; an attachment to foreign missions and Maryknoll."
Charles entered Maryknoll Novitiate at Hingham, Massachusetts on September 15, 1974; and pursued his theological studies at Maryknoll Seminary in New York. During that period, he did field work in Chinatown in Boston, and in the High School CCD Program at West Point Annex, Stewart, Newburgh, New York. As a seminarian he took part in his Overseas Training Program in Japan from 1977 to 1980. He studied Japanese language and culture for two years and served one year in the Catholic Parish in Hisai. Charles received his Master of Divinity degree at Maryknoll School of Theology and was ordained a priest at Maryknoll, New York on May 16, 1981.
Father Buraus was assigned to the Maryknoll Mission Region in Japan. After his arrival he took up pastoral ministry in the Tsu and the Hisai parishes in the Kyoto Diocese as an assistant pastor for four years. In 1985 he served as the Director of the Maryknoll Center House in Tokyo and as Assistant Regional Superior and financial accountant for the Maryknoll Mission Region for four years. In 1989 Father Buraus was appointed pastor of St. Teresa Catholic Church in Fushimi, where he remained until he died.
On the occasion of his tenth anniversary of ordination he wrote: "The ten years have gone by quickly and I am happy about them…. I am proud of my priesthood, and feel it is something to celebrate, especially at an interval like ten years… The years have been marked with some tragedy, lots of personal illness, but they have been blessed with good people and experiences. I am thankful for being a part of them."
A wake was held on Wednesday, September 9 in Japan for the parishioners of St. Teresa's. His Superior wrote: "It was a spontaneous outpouring of love from the Christian community of Fushimi, which is a poorer section of the city of Kyoto. The Marthas and Marys prepared food for the mourners. The men came as they were from work. They prayed, sang hymns of Faith, and recounted cherished memories of Fr. Charlie's generosity and above all his gentleness. Charlie had shared their life, visited their homes, worked on parish projects together, and was always available for pastoral counseling. His personality was ideal for mission and ministry…. For the Maryknoll family here in Japan it was a shock though all were aware of his health situation. He was ever at the disposal of others. While it is difficult to lose a young talented missioner, his influence in the parish and the diocese will live on in the Christians he guided, the vocations he nurtured, and the priests he shared his ministry with. In a way it is a great blessing, he taught people how to live and how to die. He was always smiling and apologetic when visited in the hospital. He bore the sufferings of the Lord, and now he shares the joys of the Resurrection. A great missioner of Maryknoll; I am envious."
Wake service was held at St. Teresa's Church Wednesday September 9, and Concelebrated Mass of Christian Burial and interment on Friday, September 11, 1992 at 12 o'clock noon. A special concelebrated Mass will be offered in the Maryknoll Center House in Tokyo on Sunday, September 13 for all Maryknollers and the staff of the House. A memorial Mass for Father Buraus is scheduled for Friday, September 11, 1992, at 11:30 a.m. in Queen of Apostles Chapel at Maryknoll Center in New York, with Fr. Kenneth F. Thesing as principal celebrant and Fr. John J. McAuley as homilist.