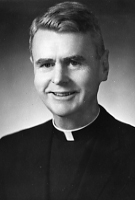 Father Charles E. Kenney, MM
Born: November 7, 1918
Ordained: June 10, 1945
Died: February 19, 1973
Father Charles E. Kenney was born November 7, 1918 in New York City. He studied at Incarnation Grammar School, Cathedral College of New York, the Venard and Maryknoll.
After his ordination on June 10, 1945 his educational attainments were unusual. He received a Doctorate in Classical Letters from the University of Rome, and a Bachelor of Canon Law Degree from the Pontifical Lateran University, both in 1948. He also obtained at Loyola University a M. Ed. Degree in 1953 and a Doctorate in Education in 1958.
He entered Maryknoll in 1938. Assigned to Rome, he served as secretary to Cardinal Fumasoni-Biondi, Prefect of the Congregation for the Promotion of the Faith, from 1945-48. After a year teaching at Lakewood, he spent the years 1949-58 at Glen Ellyn where he taught Latin, was Dean of Studies and did much of the work necessary for the accreditation of the College. In 1958 Father Kenney was assigned to Africa and was superintendant of Catholic Schools of the Diocese of Shinyanga until he returned to the United States because of illness in 1960. After brief periods on promotion at Denver and Bedford he was again appointed to Glen Ellyn where he remained until the closing of the college in 1971. From 1968 to 1971 he was President of the College and Local Superior at Glen Ellyn. In September 1971 he was assigned to the Development Department and worked in Denver from January, 1972 until his death.
Father Kenney had difficulties with his health for more than a dozen years. A man of great intellectual competence, he drove himself very hard in his studies and in a number of demanding assignments. He was highly regarded and well known among Catholic seminary educators, a fine speaker and had a spontaneous sense of humor. He always had great zest and interest for the challenges life presented to him, and a profound sense of the meaning of his priesthood.
A concelebrated Mass was said at Maryknoll on the 24th. Fr. George Buckley was principal celebrant and homilist. Burial was at Maryknoll.