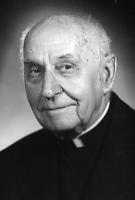 Father Charles F. Girnius, MM
Born: July 2, 1917
Ordained: June 11, 1944
Died: August 3, 2013
Father Charles F. Girnius died on August 3, 2013 at St. Teresa's Residence. He was 96 years old and a Maryknoll priest for 69 years.
Charles Francis Girnius was born on July 2, 1917 in Maspeth, New York, son of Sylvester and Antonette Bartash Girnius. He came from a family of five brothers and one sister. He attended P.S. 72 for grammar school; studied for the Diocese of Brooklyn for six years at Brooklyn Cathedral College; and three years at Immaculate Conception Seminary, Huntington, New York. He entered Maryknoll Novitiate, Bedford, Massachusetts, on September 1, 1940 and was ordained a priest at Maryknoll Seminary in Ossining, New York, on June 11, 1944.
After ordination, Father Girnius was assigned to the Maryknoll Mission in Puno, Peru. He did well in Spanish language studies and was assigned to teach at Colegio San Ambrosio, a pre-seminary high school in the Diocese of Puno. In March 1946 he was appointed Pastor of San Juan Parish in Cuyucuyo. In 1950 he was assigned to the Puno Minor Seminary as teacher of Latin, Physics and Mathematics. For use in his classes he prepared and published a student manual for Physics, in Spanish, called "Resumen de Fisica". During a home furlough in 1951 he took a brief course in auto mechanics at the Delehanty Automotive Institute in Long Island City, New York. In 1952 he was appointed Rector of the seminary in Puno.
On June 6, 1954 Father Girnius was appointed Director of the Society House and Procurator for the Puno Mission. He also did some pastoral ministry in the Arequipa Parish. In 1956 he was appointed Pastor of the Azangaro Parish, and one year later was recalled to be Rector of the Seminary. He remained there until June 1959 when he was appointed Pastor of the Acora Parish in the newly established Maryknoll Prelature of Juli. After a home furlough in 1964, Father Girnius was assigned to minister to small, far-flung parishes in a neglected part of the Juli Prelature. In the following year, he was again assigned to teach at the Puno Seminary. In August 1969 he was assigned to the Cerro Colorado Parish in Arequipa. He was reassigned to Acora in 1973, where he remained until he went to Yunguyo in 1976.
In 1977, Father Girnius took up residence with the Marianist Community in Trujillo, Peru, "assisting others who are doing good work", as he put it. In 1981 he composed "An Introduction to the Study of Electricity," a course to prepare amateur missioners and others to repair and install house wiring. He assisted Father James Stefaniak, M.M. in 1980 in establishing a home for homeless men in Arequipa, called "La Posada". After four years this project was turned over to the Fathers of St. Camillus. He was then loaned to the Ayaviri Prelature to work in the jungle area. Four years later, Father Girnius took up residence in "La Posada" Arequipa, launching into a new apostolate in social communications. He collected a large library of videotapes on primarily religious themes, but which also included the sciences and other subjects. He copied and shared these videos with local parishes, which enabled them to start their own library-lending programs, and use the videos in pastoral and catechetical work. Also during this time in Arequipa, he wrote homilies in Spanish for the Sundays of the three-year liturgical cycles and additional homilies on the Virgin and saints, to assist Maryknollers coming to Peru with the new language.
Father Girnius retired on January 1, 1988 with continued residence and work in Peru. On June 1, 1992 he began a special pastoral ministry in Puerto Rico, where he lived and ministered to the people of Cataño and Old San Juan, a ferry-ride away. Father remained in Puerto Rico, before moving to the retirement house in Cuernavaca, Mexico in July 1994.
In February 1996 Father Girnius returned to the United States and took up residence in the Society Center Building, Maryknoll, New York. As there was a great increase in the local Hispanic population, Father Girnius continued to provide homilies in Spanish for the Society members whose Spanish language skills were poor.
Father Girnius was assigned to the Retirement Community in February 2001 and moved to St. Teresa's Residence in February 2006.
Wake services were held at 4:30 p.m. on August 7, 2013 at St. Teresa's, and at 7:30 p.m. in Queen of Apostles Chapel at Maryknoll Center where Father Philip Erbland officiated and Father William McIntire read the biography. Mass of Christian Burial was concelebrated in Queen of Apostles Chapel on August 8, 2013 at 11:00 a.m. Father James Madden was Principal Celebrant and homilist. Burial followed in Maryknoll Society Cemetery with Father Paul Masson conducting the graveside service.