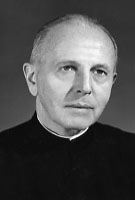 Father Charles F. McCarthy, MM
Born: July 7, 1902
Ordained: August 15, 1927
Died: June 14, 1964
Charles F. McCarthy was born in San Francisco on July 7, 1902. He was early attracted to the priesthood and in 1916 he was admitted to St. Patrick's Seminary in Menlo Park to begin his studies for the Archdiocese of San Francisco. After four years at Menlo Park his thoughts centered on the work of the missions. He applied to Maryknoll, was accepted and entered the Venard in 1920. He soon showed himself to be a deeply spiritual seminarian as well as a good student and companion. During his Deacon year he and several companions were assigned to special studies at Catholic University and he obtained his Master's degree in History. He was ordained on August 15, 1927.
His first assignment was to Mountain View as spiritual director. In 1930 he was transferred to the Venard as Vice-Rector. In 1932 he went to the major seminary as a member of the faculty and in 1935 took over the responsibilities for the Novitiate where he continued until May, 1939. At the Novitiate he introduced several practices which were found to be successful in the novitiates of certain religious orders.
In May, 1939 Father McCarthy became a member of the General Council, replacing Bishop-elect William O'Shea who was to head our mission in Korea. Besides his duties as a member of the Council he became more and more involved in the promotional and vocational work of the Society, filling the office of Director of Public Relations. After the 1946 Chapter he was appointed Director of Promotion and was largely responsible for the development of our present efficient organization.
In 1958 he finally succeeded in obtaining a coveted assignment to the missions for which he had long pleaded with dogged perseverance. His destination was Santiago, Chile, where, among other responsibilities, he applied his valuable experience gained as Director of Promotion in endeavoring to develop local sources of mission support in Latin America. Father McCarthy was throughout his career and in his various capacities a most dedicated, earnest and self-sacrificing Maryknoller, ever prepared to share with others the fruits of his wide experience.
In 1962 Father was loaned to the Catholic Relief Services and appointed Director of Socio-Economic Affairs for CRS in Colombia, Ecuador, Bolivia, Chile and Peru, with headquarters in Lima.
Death came suddenly on June 14, 1964. Father Paul McGreevey, of the St. James Society, gave him the last rites conditionally. His body was flown to Lima and the funeral held in Santa Rosa Church on the lath. Archbishop Carboni, Nuncio to Peru, gave the final absolution. Burial was in the American section of the British Cemetery in Callao.