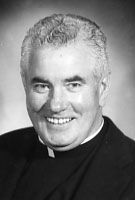 Father Charles J. McPadden, MM
Born: June 18, 1936
Ordained: May 24, 1969
Died: January 30, 2012
Father Charles J. McPadden died on January 30, 2012 at Our Lady's Hospital in Manorhamilton, Ireland. He was 75 years old and a Maryknoll priest for 42 years.
Charles Joseph McPadden was born on June 18, 1936 in Tullaghans, Cony, Carrick-on-Shannon, County Leitrim, Ireland, son of Myles and Mary Dolan McPadden. He had three older brothers and three older sisters. His primary education took place in Barran N. S. School in County Cavan, Ireland; and his secondary education in Business School in Galway Technical School from 1951 to 1953. Charles came to the United States in February 1957 and served in the U. S. Army from June 1957 to May 1959. After military service he attended St. Philip Neri Seminary, in Boston, Massachusetts for Special Latin courses from 1959 – 1960. He entered Maryknoll College, Glen Ellyn, Illinois, on September 7, 1960 and received his Bachelor of Arts degree in Philosophy in June 1964. At Maryknoll Seminary, in Ossining, New York, he received his Master of Divinity degree and was ordained a priest on May 24, 1969. He became a U.S. citizen on May 1, 1969.
Following ordination, Father McPadden was assigned to the Maryknoll Mission Region in Chile, South America. After language and cultural studies at the Maryknoll Language School in Cochabamba, he was appointed assistant Pastor in Parroquia San Vicente in Chillan, Chile. On March 23, 1972 Father McPadden was assigned to the Development Department and began service in the Development House in Houston, Texas. On March 24, 1975 he was reassigned to the Chile Region. His re-entry visa was delayed so he participated in the Mission Renewal Program at Maryknoll, New York. Upon his return to Chile he was assigned to the Canete Parish and worked with the Canete Pastoral Team.
In January 1986 Father McPadden was recalled to the United States for health reasons. During recuperation he served as an Assistant in St. John's Parish in the Bronx for two years, after which he was assigned to the Development Department and worked in Los Angeles. In 1992 he began work with the Diocese of Charleston, South Carolina in St. Mary's Church in Greenville. He was involved there in pastoral service with the Spanish community in three different areas.
After six years in St. Mary's, Father McPadden returned to Maryknoll, New York and was granted a sabbatical which he took in Australia. Upon completion of his sabbatical, he worked for awhile in the Development Department House in Denver, Colorado and in July 2005 was assigned to the Retirement Community and back to Maryknoll, New York. Father assisted at St. Teresa's Residence before retiring to Ireland in 2006. He had lived the last five years in Glangevlin, Cavan, Ireland, three and a half hours from Dublin. Father McPadden is remembered fondly, with one Maryknoller reflecting that "many people experienced Charlie as a good listener with a compassionate heart."
Wake services were held at 6:30 p.m. on February 1, 2012, at Immaculate Conception Church in Doobally, Ireland. The Funeral Mass was on February 2, 2012 at 12:00 pm, also in Immaculate Conception Church, followed by burial in the adjoining cemetery. A memorial Mass was held at Maryknoll, New York.