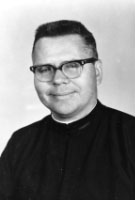 Father Charles J. Schmidt, MM
Born: September 23, 1921
Ordained: June 12, 1948
Died: March 6, 2012
Father Charles J. Schmidt, M.M. died on Tuesday, March 6, 2012 at St. Teresa's Residence at Maryknoll, New York. He was 90 years old and a Maryknoll priest for 63 years.
Charles John Schmidt was born in Brooklyn, New York on September 23, 1921, the only child of Otto Schmidt and Frieda Moldenhauer Schmidt. He attended Holy Cross Grammar School and graduated from Bishop Laughlin High School in Brooklyn, before entering Maryknoll Junior Seminary at Clarks Summit, Pennsylvania on September 7, 1939. He received a Master of Religious Education degree and was ordained at Maryknoll, New York on June 12, 1948.
After ordination, Father Schmidt was assigned to Maryknoll's mission in Kweilin, South China, particularly Hsingan which included 14 villages. He was just learning the language and getting settled when the Communists took over South China in 1949. Father Schmidt was sent to Kweilin for medical treatment. He continued to work and study in Kweilin City, and then on March 8, 1951, he was expelled from China to Hong Kong. For rest and recuperation, he was assigned temporarily to Honolulu, Hawaii, and this assignment was made permanent on June 23, 1951.
During the fifty-five years Father Schmidt was in Hawaii, he was a very active, zealous Associate Pastor and Pastor in several of the isolated plantation parishes on the Big Island of Hawaii. From 1951 to 1956 he served in St. Joseph's Parish in Hilo where he ran various youth programs. In August 1956 Father Schmidt returned to New York City and served as Chaplain to the Christian Brothers and students at Manhattan College and also took courses in Education and Psychology. He then spent a month at The Mortimer Schiff Scout Reservation in New Jersey, a major Boy Scout training center. Upon his return to Hawaii, he was assigned to St. Benedict's in Honaunau and in August 1958 was transferred to St. John the Baptist Parish in Kalihi where he organized the Boy and Girl Scout programs and established a Drum and Bugle Corps for boys and a Color Guard for girls. This Corps and Color Guard became famous throughout Honolulu and captured many honors and prizes.
Father Schmidt remained at this parish until September 1962, when he was appointed Pastor of St. Anthony Parish on the Hamakua Coast in Papaaloa. Here he remodeled the rectory and parish hall to provide more classroom space for the children's religion classes and again set up an excellent Boy Scout Troop. After ten years, Father Schmidt was appointed Pastor of Sacred Heart Parish in Hawi, North Kohala, and also Our Lady of Grace in Halaula. During his 13 years as Pastor of these two parishes, he built a full-sized gymnasium/social hall, which was completed in 1976 and dedicated to Father Damian, who was famous for his work with lepers.
From 1985 until December 1992, Father Schmidt served as Pastor in Annunciation Parish in Kamuela and then St. Theresa Parish in Mountain View. Even while managing health concerns in 1985, he continued to serve the people of these two parishes. On February 1, 1993 Father Schmidt was enrolled in the Special Society Unit but continued in active work for three and a half years at St. Joseph's High School, teaching Latin, doing counseling, serving as Sports Chaplain, and in other activities at the parish in Hilo. In 1997 Father Schmidt left St. Joseph's and moved to the Maryknoll House on Dole Street in Honolulu and continued with pastoral work in the area.
In March 2006 failing health caused him to return to the Maryknoll Center and take up residence at St. Teresa's. He was assigned to the Retirement Community in September 2006.
Wake services were held at 4:30 p.m. on Thursday, March 8,2012 at St. Teresa's and at 7:30 p.m. in Queen of Apostles Chapel at Maryknoll Center where Father Ernest Lukaschek officiated and Brother John Blazo read the biography. Mass of Christian Burial was concelebrated in Queen of Apostles Chapel on Friday, March 9, 2012 at 11:00 a.m. Father Michael O. Zunno was Principal Celebrant and Father Kevin Hanlon, homilist. Burial followed in Maryknoll Society Cemetery with Father Michael Duggan conducting the graveside service.