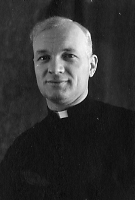 Father Charles P. Hilbert, MM
Born: August 8, 1901
Ordained: June 13, 1926
Died: December 1, 1963
Charles P. Hubert was born August 8, 1901 in Brockport, New York. He decided early to study for the priesthood in the Diocese of Rochester. He spent five years at St. Andrew's Minor Seminary and three years at St. Bernard's Seminary before he entered Maryknoll in September of 1923. He was ordained on June 13, 1926 and was one of the first to be assigned to the newly accepted mission of Kaying.
After language study in Siaolok he was appointed as curate and later as pastor of the same parish. His excellent knowledge of the language and his priestly zeal endeared him to his people. In 1930 he was named second consultor to the Society Superior. In 1934 he became pastor of Chiuling, an area which had been cut off from the parish of Siaolok. Here he started from scratch to build up a new parish. He suffered his first heart attack in 1939 but after a few months rest returned to his work. In 1940 he was appointed Vicar Delegate of the Kaying Vicariate and Rector of the seminary. During the war years the seminary took in students from neighboring seminaries in the war zone. Father Hubert's faculty was swelled by the arrival of several Italian priests of the Milan Society who, as enemy aliens, were permitted to remain free in Father Hilbert's custody.
He returned to Kaying after his furlough in 1947, passing through a zone where Chinese Nationalist troops were fighting Communist guerilla forces. But he was not long in Kaying before he became ill and had to return to Hong Kong. While resting there he was notified to return to the States to fill the post of Novice Master for the newly founded Glenmary Mission Society. He filled that post for one year and was then appointed to the Buffalo promotion house. Later, in 1952, he was assigned to work in Miaoli, Taiwan, where he became the Group Superior. Because of his health he was recalled to the States in 1956 but after a year on promotion he was able to return to Miaoli as pastor of Tunghsiao. In 1961 he was named Superior of the Miaoli Center house, a post he held until his furlough in May, 1963.
Father Hilbert died on December 1, 1963. For some years he was ill and unable to return to his mission work. It had been decided to have him recuperate in Los Angeles and he was on his way to the Coast when he died.
The funeral and burial were held at Maryknoll on December 4, 1963.