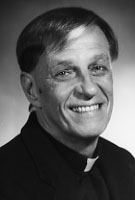 Father Charles P. Robak, MM
Born: March 22, 1943
Ordained: May 23, 1970
Died: May 25, 2005
Father Charles Robak died at St. Teresa's Residence, Maryknoll, New York, on May 25, 2005. He was 62 years old and a Maryknoll priest for 35 years.
Charles Paul Robak was born March 22, 1943, in Cambridge, Massachusetts, the son of Victor J. and Sophie Ptaszynski. He has two younger sisters. He attended Blessed Sacrament grade school and graduated from Boston College High School in 1960. He graduated from Boston College in 1964 with a B.A. in Economics before entering Maryknoll on July 1, 1965.
After his ordination on May 23, 1970, Father Robak was assigned to Korea where he served until 1987. He was involved mainly in parish work during that time, serving first in the Dioceses of Chong Ju and Inchon. In Inchon, he replaced Father Benedict Zweber, MM on Tek Jek Island parish and was the last of the 'boat missionaries' on the Yellow Sea, between Korea and China. When he closed the parish, a part of the Korea Region's history ended, expressed in the wisdom of the Korean proverb, 'After ten years even the mountains and rivers change.' It was time to go. His last six years in Korea were in the Archdiocese of Seoul, where he started a new parish, Our Lady Queen of Apostles, in the district of Amsa Dong.
When he returned to the United States in 1987, he worked in vocation ministry for six years, serving at the Maryknoll houses in Chicago, St. Louis and South Orange, New Jersey.
In 1993, Father Robak helped spearhead a new mission effort in Vietnam. The new mission was established in response to a Vatican request that the Society take up work in that country. He established a number of humanitarian projects in Vietnam in the early and mid-1990s, including a Cow Bank program for poor farmers and several vocational skills training programs for poor youth. From 1997 until he left Vietnam in 2005, Father Robak worked with juvenile offenders, boys from age 12 to 18 who had gotten in trouble with the law. He established a vocational skills training program in a juvenile detention center run by the Hanoi police, and later established a Transition House program to assist boys who were released from detention to reintegrate into society. His loving care for these boys was well known, earning him the respect of government authorities, and greatly increasing Maryknoll's credibility as a humanitarian organization in Vietnam. Due to illness, Father returned to the United States in January 2005 and resided at St. Teresa's.
Wake services were held at 4:30 p.m. on May 31, 2005 at St. Teresa's, with Father Thomas Ahearn officiating, and at 7:30 p.m. in Queen of Apostles Chapel at Maryknoll Center where Father Kenneth Moody officiated and Father Raymond Sullivan read the biography. Mass of Christian Burial was concelebrated in Queen of Apostles Chapel on June 1, 2005 at 11:00 a.m. Father John Barth was Principal Celebrant and homilist. Burial followed in Maryknoll Society Cemetery with Father John Sivalon conducting the graveside service.